Malai Kofta Recipe – Paneer Kofta With Mughlai Gravy
By Maahi Gupta, 11 Jan, 18 vegEasy हिंदी 3 Paneer
Malai Kofta is a blend of creamy white Mughlai gravy and soft fried Paneer kofta. Restaurant style recipe with video and step by step pictures.
---
Yield 2 Medium (4 Inch diameter bowl) Serves 4 People
Think of Malai Kofta and chances are that you will recall the rich taste of the creamy mughlai gravy and the soft and tender kofta that just melt in your mouth. Well, this is what you experience normally in a restaurant. If you are looking to re-create the same magical taste at home, you have reached the right place.
The
Kofta
is an Indian name for a fried meatball. In the vegetarian version, this meatball is made with either Paneer or Potato (aloo
) or a combination of vegetables. In the non-vegetarian style, this could be made with minced chicken, mutton or any other type of meat.
They are also known as
Kabab
, if served without a curry or a gravy. And if you add the liquid gravy, it becomes a main course dish.
The
gravy
can be a plain
Tomato Onion tadka
or a more richer and calorie dense
Mughlai Gravy
. We call it Mughlai primarily because it adds milk and Cream on top of usual Tomato and Onions.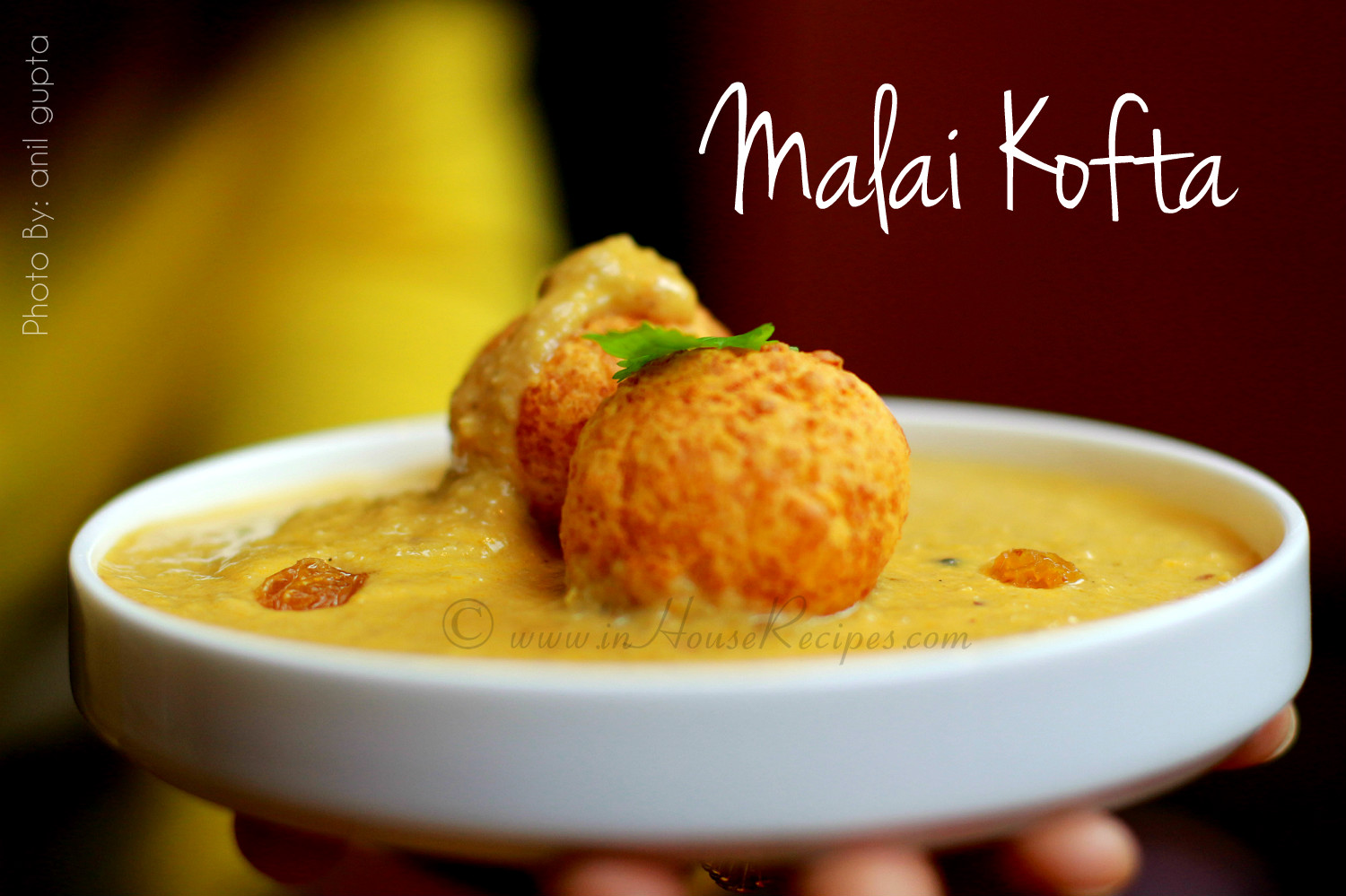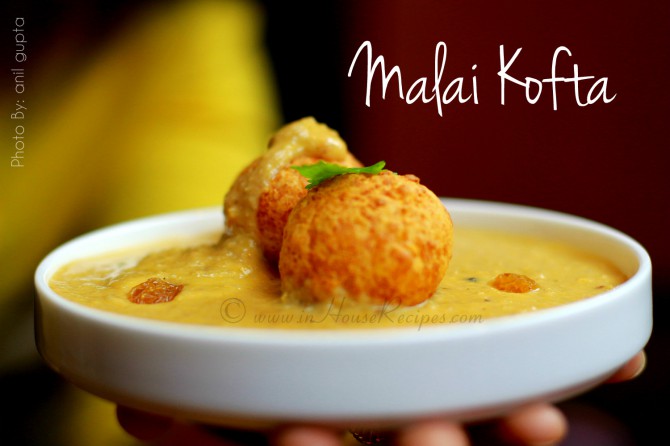 The gravy can have multiple colors based on the ingredients that you use. If you use less of Tomato and more of Cream and Milk, the result would be a White Gravy. And use more tomato to give it an Orange color.
Lets jump on to the recipe now.
For Kofta
For Curry or Mughlai Gravy
Nutrition Facts
Malai Kofta Recipe - Paneer Kofta With Mughlai Gravy
Amount Per Serving
Calories
2190
Calories from Fat 1971
% Daily Value*
Potassium 1039mg 30%
Total Carbohydrates
52g
17%
* Percent Daily Values are based on a 2000 calorie diet.
---
Instructions
---
Making Paneer Kofta
Prep Time - 2 Minutes
Ingredients for Kofta should now be ready with you.

Start with either shredding or mashing with hand the Paneer. Add Baking Powder, Cornflour and 1/4 tsp of salt. Mix it well.

Addition of milk here is optional. Generally, the rule of thumb that we follow is that if the Paneer is hard (like the packaged one we get in USA), you should add milk to soften.

If the Paneer is already soft (like the one we get in India), you can skip adding milk.

We are adding milk here.

Pick small amount of this Paneer mix in you palm and roll it with other palm, to get the round shape of kofta. The idea is to make balls with diameter of about 1.5 Inch each.

Now press it at the center with the thumb to flatten. Place 2 Raisin at the center of this flattened ball i.e. in its stomach.

Roll it back again into a ball shape. This way, the Raisin would be embedded inside the ball and that's exactly what we want.

Make more of such Kofta in a similar fashion util you finish up the whole mix. Once done, they will be ready for frying.
Frying Paneer Kofta
Cook time - 12 minutes
Take a frying pan and fill it 40% with Oil. Switch ON the stove on high flame and let it heat up for about 7 minutes.

The direct flame stove (more common in India) would take lesser time in heating up the Oil than the electric stove.

We have an electric stove and it takes about 7 minutes to reach a heat level suitable for frying. The one with direct flame (a gas based stove like the one used in India) would take about 5 minutes to reach the same level of heat.

You know your kitchen stove better, so we advise you to use your experience to analyze the heat levels here.
If you have no idea about it, then let the Oil be on high heat/flame for 5 minutes.

Once Oil is hot, add the Kofta balls in and fry until they get golden brown in color evenly on all sides.

Stir them with the spatula with light hand stroke, else, they can break in pieces. Once done, take them out from the Oil.

Keep Kofta balls directly on a paper napkin to soak the extra Oil.

One you have fried all the Kofta, you can keep them aside. We would need them later when we are done with the Mughlai Gravy.
Shallow fry Onion for Gravy
Cook time - 10 Minutes
Take a new pan or use the same that you just used for frying Kofta. We need 4 Tbsp of Oil now. You can either use the leftover Oil again or take fresh one.

We are taking a fresh pan with fresh Oil.

Heat Oil on high flame for 2 minutes this time.
After 2 minutes, Chop the Onion and fry them in hot Oil on high flame until they turn pink in color. It should take about 4 minutes to turn pink.

Once they turn light pink, take them out of frying pan and keep aside to cool to room temperature. You can consider 3 minutes to be a good time for bringing the temperature down.

Keep the left-over Oil and this pan aside. We would re-use the Oil and this pan later while making the Gravy. This should have approximately about 1 Tbsp Oil still left after frying Onion.



Once done, add it to the grinder jar and grind to make a smooth and fine paste. Keep this paste aside for later use.
Removing Tomato Skin and grinding
Cook time - 15 minutes
The Mughlai gravy does not have the Tomato skin as it tastes bad while chewing. Hence, to remove the skin, we need to boil them first.

Add Tomato in a pressure cooker along with 1/2 cup water. Close the cooker lid and let it make 1 whistle on high flame.

After a whistle, switch Off the stove. Let the steam go Off on its own i.e. do NOT force open the lid.

Once all steam has vanished from the cooker, open it and take out the boiled Tomatoes.

Peel the skin of the Tomato. Since tomato is in boiled state, it can easily be taken Off just a slip of your finger.

Be careful as Tomato is hot. Use a plate to hold the Tomato and you can wait for 2 minutes if you are not able to handle the hot ones.

After removing the skin, let them sit aside for 3 minutes. This will help them come down to room temperature.

After 3 minutes, grind and make a smooth paste using a grinder. Keep this paste aside for use later.
Preparing other Ingredients for Gravy
Prep Time - 5 minutes
Grate Ginger and Garlic into fine strings. If you are using a ready-made Ginger garlic paste, then you can skip this step.

Chop the Green Chilies into small circular pieces. Do NOT add these chilies to ginger garlic yet.

Grate Almond and Cashew nuts to make a fine powder. We need to convert this powder into a paste.

Hence, add 1 cup of water and 1 tsp of roasted Khus-Khus. Grind once again. You will now get the thick paste. Keep it aside too for use later.
We are now ready with all the pastes and other ingredients that are required to make Mughlai gravy.

Lets recall all of them i.e. Fried Onion paste, Boiled Tomato paste, Cashew-Almond paste, Grated Ginger garlic and chopped Green chilies.
Making Mughlai Gravy
Cook time - 20 Minutes
Using the same pan and leftover Oil (about 1 Tbsp) that we used for frying Onion here. Add 2 Tbsp of Oil in this pan to make it a total of 3 Tbsp Oil.

You can use a fresh pan as well. In that case, just add fresh 3 Tbsp Oil.

Switch ON the stove on high flame and let it heat for 1 minute.

After 1 minute, turn the stove on medium flame. Open the face of all 4 Black Cardamom (break open at their center) and add them in hot Oil along with Bay Leaves. Cook until they become light golden brown in color. It should take about 1 minute.

Add grated Ginger, Garlic and green Chili. Cook until they become light golden in color. It would take 1 minute too.

Add Onion paste and mix well. Let it cook until Onion paste turns brown in color. This would take about 5 to 7 minutes.

The Onion would have turned white in color when we made its paste. It should now turn to brown while roasting.

Once you see the brown color of Onion, Add Tomato paste. Cook until Tomato paste is separated from the Oil. This step would take about 5 minutes.

You will witness the Oil hovering around the walls of the frying pan when it separates itself from paste.

Now, add Cashew-Almond paste, Salt, Garam Masala, 1/2 Cup (Our 1 Cup = 240 ML) water and 1/2 Cup (Our 1 Cup = 240 ML) Milk. Mix well and cook for 2 minute.

After 2 minutes, add the Cream (or Malai) and you can now see the light Orange color that gravy has achieved. Let it cook on medium flame until it takes one (1) boil. This would take 2 minutes.

Once you see the boil in the gravy, Your Mughlai creamy gravy is ready.

Add Paneer Koftas (or you can say meatball) that we prepared earlier. Use a Spatula to pour the Mughlai gravy on the Koftas. Switch Off the stove. Your delicious Malai Kofta is ready to serve.
---
Storage and Serving Suggestions
---
You can garnish Malai Kofta with Green Coriander leaves and Raisins before serving.
Malai Kofta is a high calorie delicacy and hence is primary served either in lunch or Dinner meal. This is accompanied by Indian bread like Garlic Naan (make Naan in cooker) or Poori.
A small bowl of Malai Paneer Kofta would easily have about 400 calories. The protein content is high due to the presence of Milk, Paneer and Almonds. Do remember that fat content is high too as the Kofta are deep fried in Oil.
You can and should keep the Kofta separate until you have to serve the whole dish. Just add the Kofta to the Gravy half an hour before you have to serve.
You can refrigerate them (both combined or separately) for up-to 3 days for best taste. Re-heat using a Microwave or a pan whenever you want to serve again.
---