Besan Cheela Recipe – 10 Minute Breakfast – Video
Veg Besan cheela, a nutritious snack made in 10 minutes with vegetables & Paneer. It has about 120 calories and good Indian fast food for kids breakfast.
Besan Cheela is a healthy option for a snack in the sense that it has high protein along with vegetables.We have added Paneer to increase the protein content and making it more suitable for kids.
My son 4 years at this time enjoys it more in his evening snacks.
Try and try to ditch the sugar cookies for the cheela.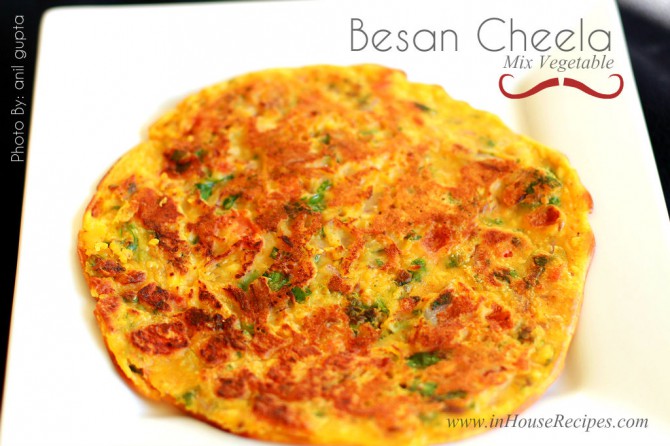 Ingredients
Yield 4 Veg besan cheela (4 Inch Diameter)
Nutrition Facts
Besan Cheela Recipe - 10 Minute Breakfast - Video
Amount Per Serving
Calories
289
Calories from Fat 144
% Daily Value*
Potassium 417mg 12%
Total Carbohydrates
22g
7%
* Percent Daily Values are based on a 2000 calorie diet.
Instructions
Making Cheela Batter
Take a bowl, add Gram Flour Besan, Asafoetida, Cumin Seeds, Red Chili Powder, Garam Masala and Salt. Mix well.

Add chopped Vegetables like Green chilies, Onion, Tomato, Cottage Cheese and Coriander Leaves.

Mix them well as we want the vegetable moisture to be absorbed by the besan before we add water to it.

Now, add Oil and water gradually to make a lump free and smooth batter. Once batter is ready, keep it aside for later use.
Shallow fry Cheela
Take a flat surface pan about 2 inch in depth. The pan has to be mild hot to have a crispy Cheela.

Add 1/2 tsp of Oil in this pan and switch ON the stove at high flame.

After a minute, turn the stove to medium flame.

This batter is good for making 4 Cheela. So, use a spoon to pick sufficient amount for 1 Cheela and pour the batter in pan. Turn the stove to high flame.

Use the spoon to spread the batter evenly in a circular shape. Let it cook for at-least 2 minute or until it is slightly cooked from the bottom.

When you witness the small little holes coming up on the surface of the Cheela, it signals the readiness of Cheela from the bottom.

Pour 1/2 tsp Oil on the circumference to help Cheela come Off the pan easily.

Now, scrape the circumference of the cheela and flip it turn it over very carefully without breaking and cook until it gets golden brown from both the sides.

Once done, take it out in a plate and make rest of the cheelas in similar fashion.
Storage and Serving Suggestions
Besan Cheela batter can be preserved with refrigeration for up-tp 2 days. You can make fresh Cheela with this batter as and when you desire.
Veg Besan Cheela can be wrapped in aluminium foil to maintain freshness and moisture. You can either refrigerate them or use in your kid's lunch box.
Veg Besan Cheela can be accompanied with Tomato sauce or Coriander chutney.
Paneer
Protein Rich Indian Recipes