Shahi Paneer vs Paneer Makhani?
Difference between Shahi Paneer Vs Paneer Makhani can be defined more by its taste than its looks. Paneer Makhani is primarily made of Butter curry.
What is the difference between Shahi Paneer and Paneer Makhani? This is certainly an interesting question that pops up in mind whenever you see them listed in a restaurant's menu.
Well, the very first difference is in the name itself! no..don't go away…i know this is a rubbish difference.
Please read on to find my own understanding of the two most popular versions of Paneer.
As a matter of fact, what I have realized over the time eating out is that the difference would be visible as well felt in taste if you eat out in North India.
The difference between the two starts to fade away as you move towards southern India.
Also, there is absolutely zero difference in any of the paneer delicacy you order in 99% of USA desi restaurants. They would just mix the same curry with Paneer and serve it on your table.
Anyways, here is what our own recipes at inHouseRecipes compare with respect to ingredients: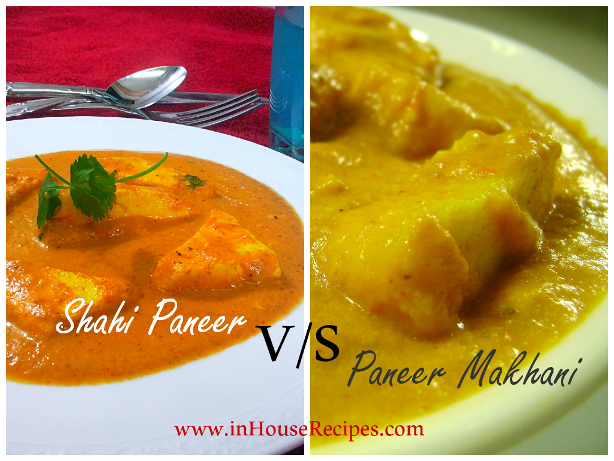 | | |
| --- | --- |
| Shahi Paneer | Paneer Makhani |
| 250gm Cottage Cheese (Paneer) | 250 Gms (8.8 Oz) Paneer |
| 1 Tbsp Chopped Green Chilies | 6 Green chili |
| | 2 Inch Ginger |
| | 4 Garlic buds |
| For Frying -Cooking Oil | 200 Gms (7 Oz) Unsalted Butter. |
| 1 Cup (Our 1 Cup = 240 ML) Chopped Onion | 2 Onion |
| 1 Cup (Our 1 Cup = 240 ML) Chopped Tomato | 2 Tomato |
| 1/2 Cup (Our 1 Cup = 240 ML) Milk | 1 Cup (Our 1 Cup = 240 ML) Milk |
| | 8 pieces Cashew |
| | 8 pieces of Almonds (Soak Almonds in water to help remove their skin easily) |
| To taste Salt | 1 tsp Salt |
| | 1 Tbsp Coriander powder |
| 1-1/2 Tsp Red Chili Powder | 1/4 tsp Red Chilli powder |
| | 1 Cinnamon stick |
| | 4 Cloves |
| 4 Black Cardamom | 2 Black Cardamom |
| 1 Tsp Turmeric Powder | 1/2 tsp Turmeric powder |
| 1 Tsp Garam Masala | 1/4 tsp Garam Masala |
| 1 Cup (Our 1 Cup = 240 ML) Water | |
| 3/4 Cup (Our 1 Cup = 240 ML) Fresh Cream | |
| 2 Tbsp Sweet Tomato Sauce | |
| 2 Tbsp Chopped Coriander Leaves | |
| 1/2 Tsp Black Salt | |
Ingredient differences
As you can see above, the primary difference between the ingredients highlight the fact that Paneer Makhani is cooked in Butter as compared to Shahi Paneer, which is usually cooked in any cooking oil.
The other subtle difference is the usage of more whole spices in Paneer Makhani or Paneer Butter Masala to make it spicy. On the other hand, Shahi paneer's inclination is a bit on the sweeter side as you can make out from the addition of Sweet Tomato sauce.
Over the years of my various paneer trials, I have noticed that Shahi Paneer tends to have more of sun-set type of orange color and Paneer Makhani gains is color attribute from Butter (Makhan) which is usually associated with yellow.
You can very well argument on the points and every chef/restaurant has its own recipe for making these dishes. So, this evaluation is entirely based on my experience and the fact that nobody owns the patent to the recipes!
Taste differences
The Paneer Makhani would look and taste heavier due to its gravy/curry being made with butter, cashew and Almonds. This would certainly make it more calorie dense than its counterpart. A strong taste and smell of Butter is inherent.
Shahi Paneer's gravy is generally lighter and has bit of dropping consistency. It is bound to leave a slight feeling of sweetness on your tongue after chewing the bite.
What has been your experience on the difference between Shahi Paneer and Paneer Makhani? We would like to hear it in comments.
There are many more variations of Paneer that we have experienced which may also fuse a confusion in any ones mind like Paneer Jalfarezi, Kadai Paneer, Methi Paneer/ Paneer Paro, Paneer Tikka Masala, Handi Paneer, Paneer Pasanda, Palak Paneer and the list may go on….Let us know if you have confusion on any of these and I would love to clarify as per my experience.
Quick Tips