Tandoori Aloo Paratha in Cooker Recipe [Video]
Tandoori aloo paratha is the favorite of all travelers. We are making it in Cooker without a tandoor. They are crisp and delicious like you eat in a dhaba.
Maahi Gupta
Updated 15 Feb, 14
Tandoori aloo paratha is the favorite of all travelers! I am sure you would have eaten it at least once in your life at a dhaba while going on any of the north Indian highway.
Normally cooked in tandoor and garnished with butter, they simply make fall in love with them.
We are trying to re-create the same magic at home and that too without a tandoor. If you have tandoor, you are lucky…but if you don't ..we will still make you feel lucky as you only need a pressure cooker to simulate the tandoor effect!!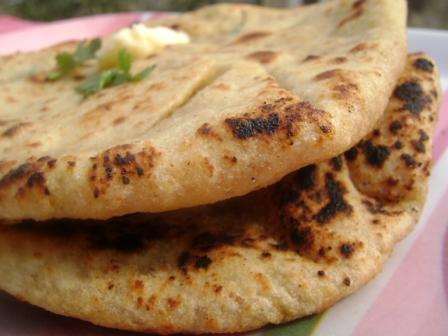 Now watch this simple hack and enjoy tandoori Aloo Parantha at home.
Tandoori Aloo Paratha Recipe – Video In Hindi With English Subtitles
Tandoori Aloo Paratha Recipe In Words
Prep time:
Cook time:
Total time:
Yield: 2 Tandoori Aloo Paratha (good for 1 person)
Ingredients:
Enough amount of 

Wheat Flour Dough for two Paratha

1/4 Tsp

Salt

1/4 Tsp

Cumin Seeds

1/4 Tsp

Red Chili Powder

2 Pinch Mango Powder (

Amchoor)

2 Pinch

Garam Masala

3 Tsp

Oil (Needed while rolling/flattening the Paratha)

1 Tsp

Coriander Leaves

1

Green Chili

Enough

Water (Just to paste the Paratha in Cooker)
Method
Normally, the cookers have their mouth closing towards inside. But we need the one with the mouth opening outwards (as shown in the video). Cooker with inner opening can be used but it will be difficult to stick the paratha in it and you may burn your hand while doing it. You may want to wear a glove while using the cooker with mouth opening inwards.
Cooker should be very hot to cook tandoori aloo paratha just like a tandoor . Hence keep it on stove with high flame now.
We will now start with grating boiled Potatoes.
Now add Red Chili Powder, Salt, Mango Powder, Garam Masala and Cumin Seeds. Mix well.
Add chopped Coriander Leaves and Green Chilies. Mix well. Potato mixture for filling inside the paratha is now ready.
We should now make the paratha with wheat flour dough. Take a small portion from Wheat Flour dough. Try to keep the size of Paratha equal to the size of cooker wall.
Roll it with hands and apply a bit of oil while flattening  Flatten it with rolling pin to give a round shape.
Add Potato mixture at the center of the rolled chapati. Close all the edges of paratha and make sure that the potato mixture does not have space to spill out.
Apply a bit of Oil and roll it again with rolling pin to give a round shape with light hands.
We need to keep the thickness of paratha a bit more than the normal paratha.
Cooker has heated up. Now apply a thin layer of water on one side of paratha.
Stick it on cooker wall with the face having water layer. Cook it on high flame. We have kept the cooker tilted/slant to provide paratha with maximum heat with flame just below it.
You can stick more parathas on remaining space on wall. In that case, keep the cooker straight to provide heat for all parathas.
Paratha will start fluffing and its corners will turn golden brown. Now, turn the cooker upside down to face the flame (refer video for exact scene).
Slowly, the heat will cook the face of paratha too.
Once it is done, you should use spatula to un-stick it from cooker wall.
Tandoori Aloo Paratha is ready to serve hot. Garnish them with butter.
Enjoy them with Curd, Dahi Dhaniya Chutney, white or yellow Butter. I like to eat them with Dal Makhani and Paneer Tikka Masala.