Gobi Gajar Achar With Rai Recipe [Video]
Gobi Gajar Achar is a unique type of pickle and we are making it with Rai. The recipe is easy to follow with simple ingredients. Gets ready in 3 days.
Maahi Gupta
Updated 15 Feb, 14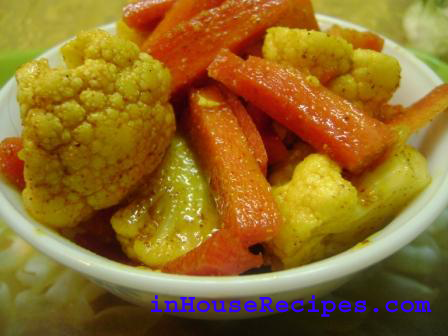 Gobi Gajar Achar (Cauliflower and Carrot Pickle) with Rai is quite a famous pickle in India. It is eaten with Paratha and chapati and is considered good for health and digestion.
It is pretty easy to make at home and this is what my mom is trying to explain in this video. I hope you would like it.
By the way..my mom is known as home made pickle expert in her colony!! She has indeed share some of her tried and tested Achar recipes with us like mango pickle and Lemon pickle. I hope you would like her effort and would try the home based pickle recipes.
Gobi Gajar Achar Recipe Video In Hindi
Gobi Gajar Achar Recipe In Words
Prep time:
Cook time:
Total time:
Yield: 1/2 Kg Gobi Gajar Achar
Ingredients:
150 Gms

Cauliflower

4

Carrots

1 Tbsp

Mustard Oil

1 Tsp

Salt

1/2 Tsp

Turmeric Powder

1/2 Tsp

Red Chili Powder

2 Tsp

Red Mustard Seeds Powder
Method
Wash the vegetables and keep aside to dry.
Now chop the Cauliflower in small pieces. keep it aside.
Peel the skin of Carrots and chop them in small thin long pieces. This will make them soft and tender quickly while they are in the process of softening.
Add the chopped Cauliflower and Carrots in a big bowl.
Now add Salt, Turmeric Powder, Red Chili Powder, Red Mustard Seeds Powder and Mustard Oil. Mix them all together.
Once done, pour the Achar in an air tight glass or food grade container.
Shake it well. Keep the pickle in direct sunlight for at-least 2-3 days for softening.
After 3 days in direct sunlight, Gobi and Gajar would have softenened. The home made pre and hygienic achar is ready to serve. You can enjoy it with Paratha/Roti or Rice.