Tandoori Lachha Paratha Recipe Without Tandoor [Pics]
Do you know that Tandoori Lachha Paratha can be made without a tandoor? Yes, you can make it easily using a cooker that is easily available any Indian kitchen.
Maahi Gupta
Updated 4 Sep, 14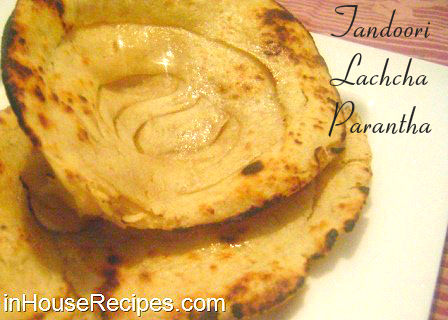 Tandoori Lachha Paratha is one of my favorite bread (Indian Chapati) and love to eat it whenever we venture out for a meal. Have you ever tried making it at home anytime? What? You do not have tandoor?
Do you know that you do not even need tandoor to enjoy karara lachha paratha? Yes, if you follow this recipe, you can make it using your age old cooker.
The lachha paratha that you get at restaurant is usually made with All-purpose-flour (Maida) and I am actually using wheat flour to keep it on the healthier side.
Tandoori Lachha Paratha Recipe In Words
Prep time:
Cook time:
Total time:
Yield:
1 Tandoori Lachha Paratha
Ingredients:
Method:
Rolling the paratha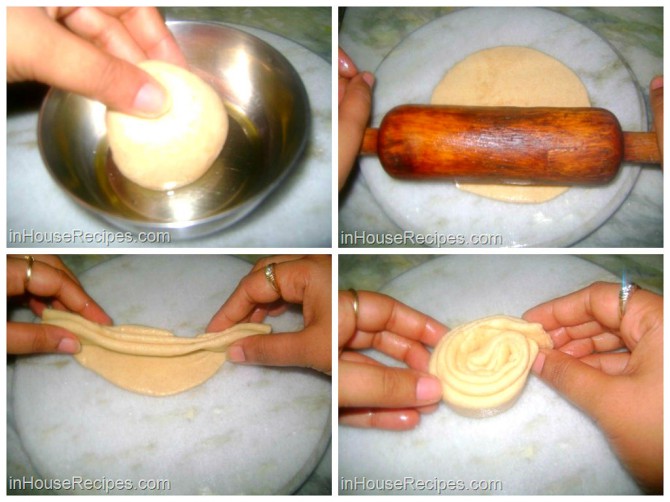 Dip the dough ball in Oil. This will help us rolling it into a soft chapati.
Roll the Chapati into a flat-bread with the help of a rolling pin.
Now fold the chapati to make layers (These are called Lachhas in Hindi). Lachhas are nothing but the various layers of wheat flour layered on top of each other.
Once you get the long strips/line of dough, fold it to make a circle/spiral.
Dip a small portion of this spiral roll in Oil for greasing.
Grease your both palm with Oil too, to avoid spiral roll sticking to your hands.
Making flat-bread out of spiral (Lachha)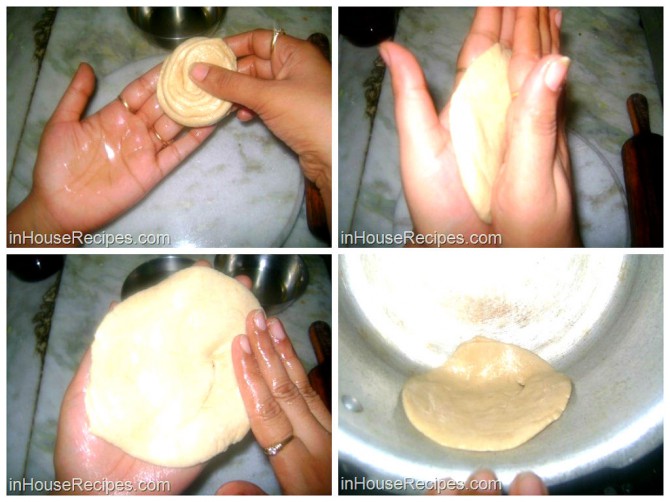 Now, we need to again roll this spiral into a paratha. It should be done with hands instead of rolling pin. Press it with both palms while moving continuously to expand as shown. We are now ready to cook this flat-bread into a tandoori Parantha.
Spread few drops (5-6 number) of water with the help of your fingers on rolled Paratha on any one side only. This side needs to stick to cooker's wall and water will do the trick.
If you have a Tandoor, you can very well use it. If not, make use of your beloved cooker.Heat Cooker on high flame. Keep this in mind that cooker has to be really hot before you paste the Paratha on it. It would take approximately 2-3 minutes on high flame to get to that hotness level.Once cooker is hot, paste the chapati on its wall (as shown). Keep the stove on high flame.
Cooking the Tandoori Paratha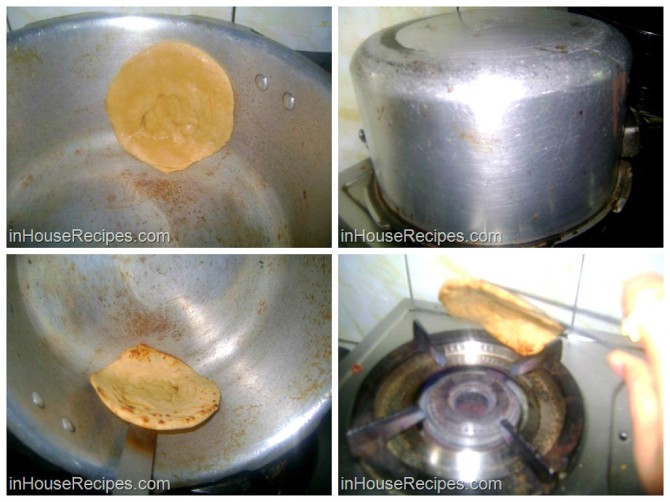 Once you see that the Paratha is slightly cooked from its bottom (as shown – the side with water and face towards its wall), turn cooker upside down.
Turn cooker upside down to cook the other side of paratha too. Upside-down is to help accumulate heat inside the cooker and cook exposed/outer portion of Paratha.
Let it cook until your Paratha turns light golden brown in color (as shown). You can lift the cooker and keep an eye on it.
If by any chance, the Paratha is uncooked from any of its corner, just simply cook it on the stove flame directly (refer image).
Tandoori lachha paratha is ready to serve hot. Top it up with butter or cheese and serve with your choice of Vegetable/Pickle/Sauce.
If you are enthusiastic about learning more tandoori recipes that you can try with cooker, you will be amazed at what all you were missing all this time. And yes, there is absolutely no need to spend money on a tandoor when you have a multi-purpose cooker at home .