Punjabi Chole Recipe – Chole From Chole Bhature
Make Punjabi Chole restaurant style at home for Bhature. Use dry Amla or Tea leaves for black chole. Punjabi Chana masala with curry recipe with pictures.
Maahi Gupta
Updated 13 Jul, 22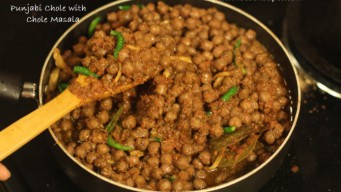 Punjabi Chole Recipe - Chole From Chole Bhature
Make Punjabi Chole restaurant style at home for Bhature. Use dry Amla or Tea leaves for black chole. Punjabi Chana masala with curry recipe with pictures.
Ingredients
For Boiling Chole
300

Gms

Chickpeas

White Chole/Kabuli Chana

1

Tsp

Salt

1.5

Liter

Water

7

Number

Dry Gooseberry (Amla)

Black in color
For Punjabi Chole Masala - Dry Powder
3/2

Tsp

Cumin Seeds

Jeera - Roasted

1

Tsp

Ginger powder

Dry

1

Tsp

Mango Powder

1

Tsp

Red Chili Powder

1/2

Tsp

Black Salt

1/2

Tsp

Garam Masala

3

Tsp

Coriander Powder

1/4

Tsp

Carom seeds

Ajwain

3

Pinch

Asafoetida

Hing

2

Number

Bay Leaves

Tej Patta

3

Number

Cloves

4

Number

Black Cardamom

2″

Inch

Cinnamon Stick

1

Number

Star Anise

Chakra Phool

1

Tsp

Salt

1/4

Tsp

Black pepper powder

3/2

Tsp

Pomegranate seeds

powder - Anardana powder

1

Tsp

Dry Fenugreek Seeds

Dry Kasoori Methi
For Final Chole
5

Number

Green Chili

3 Inch in height, Finely slit into two pieces vertically

3″

Inch

Ginger

Fresh, Finely slit into vertical pieces

1

Cup

Tomato

Puree - Fresh or Canned Tomato Paste or you can grind tomato to make one

1/2

Cup

Onion

Grated into small pieces

3

Tbsp

Oil
Instructions
Soaking Chole Preparation Time: 4 to 8 hours
Wash and Soak the Chole in fresh water. Leave them to soak over-night approximately 8 hours for best results.

If you can't leave them soaked over-night, then 4 hours of soaking, before starting the cooking process would be good.

If you don't soak, they would take pretty high amount of time in boiling and may not yield good results.
Boiling Chole Cook Time: 45 Minutes
Drain out all the water from Chole next morning or after 4 hours of soaking.

Add drained Chole in a pressure cooker along with Salt and water.

The trick for making black chole is the dry Amla here. Add it now. They will help in dying the chole in black along with adding a bit of tangy flavor. Close the lid of the pressure cooker and bring it to boil on high flame.

After 2 whistles on high flame, turn the stove to low flame for about 30 minutes.

Switch off the stove after 30 minute. Do not open the lid of the cooker until it has pressure in it. Keep it aside.

Open the lid once all steam has vanished from the cooker. Take out all the Amla pieces and drain out the water from Chole retaining about 1/4 cup of total water aside for later use. Rest of this water can be thrown away.

Transfer the Chole in a new Pan. Sprinkle Green Chilies and Ginger on top of it. Do not keep the pan on stove yet, we will use them later.

Let us prepare the Punjabi Chole Masala before proceeding. If you already have it, you can skip the next steps and straight-away go to making chole.
Prepare Punjabi Chole or Chana Masala Cook Time: 10 Minutes
Roast the Carom Seeds, Star Anise, Black Cardamom, Cloves, Cinnamon on medium flame until they get light golden in color. Once done, grind them to a fine powder.

This will take about 5 minutes.

Add Coriander Powder, Mango Powder, Red Chili Powder, Dry Ginger Powder, Roasted Cumin Seeds Powder, Salt, Black Salt, Dry Fenugreek Leaves, Pomegranate Powder, Garam Masala and Black Pepper Powder to the whole spice's powder we made in above step.

Mix them well and the masala is ready.

Keep aside for use later.
Coming Back To Making Chole Cook Time: 15 Minutes
Prepare the Onion and Tomato mixture i.e. Tadka.

Add Asafoetida (Hing) and bay Leaves in hot Oil. Cook for 30 seconds.

Turn the stove to medium flame and add grated onion. Once they turn golden brown in color, add Tomato puree. Mix well.

Keep the stove on medium flame and cook for 5 minutes.

After 5 minutes, Onion Tomato paste is ready.

We have to go back to the first level where we kept the Chole ready in a pane.

Pour this Onion Tomato mixture on top of Chole.

Punjabi Chole Masala comes into the picture now.

Sprinkle the prepared Punjabi Chole Masala on top of Chole kind of top of Onion tomato mixture now.

Take another pan and heat 2-3 Tbsp of Oil on high flame for about 5 minutes. The idea is to heat the Oil to a real good level.

Pour the Oil evenly on Chole pan directly and mix well. The Oil should be hot enough to at-least make the chole masala shiver for 3-4 seconds. The idea is to cook the Masala with the real hot Oil and it does not feel raw while eating.

Heat the 1/4 cup Chole Water which we kept aside, from boiled Chole in another pan on high flame for about 5 minutes. Once it is hot, pour it over the Chole.

If you like to eat bit greasy or gravy rich chole, then add 1/2 Cup (Our 1 Cup = 240 ML) or more water from boiled chole as per your choice.

Punjabi Chole are almost ready. We just need to heat them once and help all the things that we have added gel together. So, switch ON the stove and keep them on high flame for 2 minutes. Give a good stir to mix all ingredients.

Switch off the stove after 2 minutes and they are ready to serve.
Notes
How To Make Black Chole or Black Punjabi Chole or Black Chole Masala?
The trick to turn the chole into black color is the addition of dry Amla (as we have listed in above recipe) or using Tea leaves. Dry Amla is a better method and provides better results than the tea one. Also, Tea leaves are nothing but the normal household tea or tea bags you have except green tea.
The black Chole Masala is actually a 2 step process. You cannot make chole black only by its masala. Chole Masala is a separate process as we have shown above and it can be used to make Punjabi black Chole.
Is Punjabi Chole Masala required for Punjabi Chole?
I would say yes. The masala is an important part of the whole recipe and the final experience. We have created this Punjabi Chole Masala recipe after a lot of experiments. It does help you get that unique restaurant style taste and we strongly recommend to follow the recipe the same way we have listed.
Is it necessary to pour hot Oil on Chole Masala as listed in recipe? Can't we cook masala in Oil separately?
Yes, you can but the taste would certainly differ. We have tried and tasted it several time including cooking the oil with Oil ans various other ways. But, the final taste that we found closest to restaurant style is what we achieved after carefully pouring the hot Oil on top of Masala. Believe us, it does make a difference.
More questions? You can share it in comments below and we would love to answer....
Nutrition
Calories:
305
kcal
Carbohydrates:
37
g
Protein:
8
g
Fat:
17
g
Saturated Fat:
2
g
Polyunsaturated Fat:
2
g
Monounsaturated Fat:
11
g
Trans Fat:
0.01
g
Cholesterol:
0.3
mg
Sodium:
1991
mg
Potassium:
500
mg
Fiber:
8
g
Sugar:
7
g
Vitamin A:
950
IU
Vitamin C:
80
mg
Calcium:
90
mg
Iron:
3.8
mg