Panjiri Recipe – Gond Ke Ladoo
Panjiri is a north Indian dessert, served in Winter season. Made with Edible Gum, desi ghee and wheat flour, are famous as Gaund ke Laddu. High in calories.
Maahi Gupta
Updated 13 Jul, 22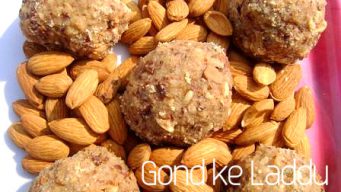 Panjiri Recipe - Gaund Ke Ladoo - Video
Ingredients
400

Gm

Almonds

200

Gm

Edible Gum

Gaund

200

Gm

Cashew Nuts

100

Gm

Raisins

Kishmish

50

Gm

Muskmelon Seeds

Cantaloupe, Kharbooja

100

Gm

Dry Coconut

Grated

1

Kg

Desi Ghee

750

Gm

Sugar

Powder form, Khaand in Hindi

500

Gm

Wheat Flour
Instructions
In a big pan, heat 1/2 Kg Desi ghee on high flame.

Once ghee is hot, add Almonds and fry them on medium flame until they turn golden brown.

Take out Almonds once they are done.

Now fry Cashew nuts until they turn light golden brown on medium flame.Take them out once they are done.

Now fry edible gum in small batches as it fluffs itself while frying and hence will require more space.

You can fry 2 handful of edible gum in one batch.

Fry edible gum until it turns light golden brown.

Fry all edible gum similarly. Take out once it is done.

Now add remaining Ghee in the same pan and heat it.

Once Ghee is hot, add wheat flour and roast it until it turns golden brown.

Stir it continuously to avoid any burns and cook on medium flame.

Stir and break lumps if any in wheat flour.

When it turns light golden brown add muskmelon seeds. Keep cooking it.

Crush edible gum pieces with the help of a steel bowl as shown. No need to make a powder. Medium crushing is okay.

Grind fried Almonds to fine particles as shown. Don't make a powder.

In the mean time, our wheat flour has turned golden brown. Switch Off the stove.

Add finely grated coconut into it. Mix well.

Start adding dry fruits in this mixture.

Add Edible Gum, Almonds and Cashew Nuts. Mix well.

Now add powdered sugar khand and mix well.

Add raisins and mix well. Mixture is ready for making laddu.

Take small portions of mixture and roll it with both hands to give a round shape as shown.

Gaund laddu is ready and you can make all in similar way. Gaund ke laddu are ready to serve. Enjoy.
Nutrition
Calories:
887
kcal
Carbohydrates:
68
g
Protein:
10
g
Fat:
68
g
Saturated Fat:
34
g
Polyunsaturated Fat:
4
g
Monounsaturated Fat:
9
g
Cholesterol:
46
mg
Sodium:
4
mg
Potassium:
388
mg
Fiber:
7
g
Sugar:
42
g
Vitamin A:
5
IU
Vitamin C:
0.8
mg
Calcium:
70
mg
Iron:
3.1
mg