Palak Paneer Kofta Curry Recipe [Video]
Palak paneer kofta curry is a stylish paneer recipe where we stuff paneer inside palak and fry to make paneer kofta. Kofta is then added to rich tomato gravy.
Maahi Gupta
Updated 15 Feb, 14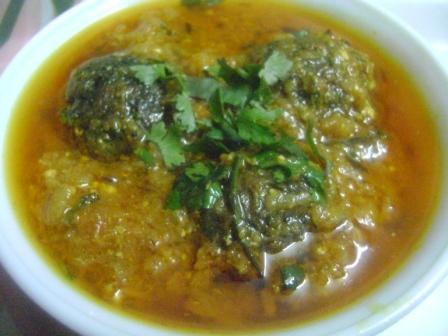 Palak Paneer Kofta Curry- An Amazingly delicious dish to serve when your guests are at your place. It is made with cottage cheese (paneer) stuffed inside the spinach (palak) covering and the tomato onion gravy.
The taste of Paneer inside the fried Palak kofta makes you feel on top of the world when it just melts in your mouth.
Palak Paneer Kofta Curry Recipe Video In Hindi With English Subtitles
Palak Paneer Kofta Curry Recipe In Words
Prep time:
Cook time:
Total time:
Yield: 3 Bowl (good for 6 people)
Ingredients:
500 gms

Spinach (Palak) – finely chopped

100 gms

Cottage Cheese

2 Tsp  

Curd/Yogurt  

2″ Inch  

Ginger grated

2  

Grated small onions  

2  

Tomato's Paste  

1/4 tsp

Cumin Seeds  

1 tsp

Salt

1/4 tsp

 Turmeric Powder

2 Pinch

Garam Masala

2 tsp

 Coriander Powder

1/2 tsp

 Red Chili Powder

1/2 Tbsp 

Gram Flour (Besan)  

1

Green Chili  

2 tsp

Fresh finely chopped Coriander leaves  

1 Tbsp 

Oil  

1 Cup (Our 1 Cup = 240 ML)

Water
Method
Take a pan and switch ON the gas stove. Add 2 tsp of Oil.
In hot oil, add Spinach and cook on high flame. Cook Spinach till it's water evaporates completely. Keep this in mind that you have to press the Spinach with spatula, to take out its excess water.
Side by side, take a pan and switch ON the gas stove. On medium flame, roast Gram flour till it gets golden brown in color.
By the time Gram flour gets golden brown, the spinach (Palak) would have lost all its water. Switch of the Spinach stove burner and sdd the dry spinach in roasted gram flour. Mix well.
To make Curry or gravy: Take a pan, add 1 tbsp of Oil and heat it on high flame. Add cumin seeds and roast until they turn their color to dark brown.
In roasted cumin seed, add ginger and fry on medium flame. After frying ginger for 1 minute, add onion. Fry onion till they get golden brown in color.
Once Onions turn golden brown, add tomatoes and cook for 2 minutes.
After 2 minutes, add Salt, Red chili powder, Coriander powder, Garam masala, Turmeric. Let it cook for another 2 minutes.
After 2 minutes, add water and curd to the gravy. Mix well.
Bring the gravy to a boil and then turn the gas stove on low flame. Let it cook for 5 minutes. We can utilize these 5 minutes to make the Palak Paneer Kofta.
To make Palak Paneer Kofta: Mash the cottage cheese with your hands or a spatula. Add Coriander leaves, Green chili, 1/4 tsp of Salt and 1/4 tsp of Red chili powder. Mix it well.
Take small amount of cottage cheese and make small ball. Repeat the same to make all the balls. Keep them aside for later use.
Take a small amount of spinach mixture. Spread it on your palm and stretch it enough to accommodate the paneer ball in it.
Cover the paneer ball with spinach mixture in a way that paneer is not visible from anywhere. Give it a round shape. This is your raw Palak Paneer Kofta.
For frying Koftas: Heat Oil in a pan on high flame.
Add Kofta for frying in hot oil. Fry on medium flame and sprinkle oil on koftas from sides. Fry till they get golden brown from all the sides.
Add Palak Paneer Kofta in the gravy even if it has not completed the 5 minutes on low flame. After leaving Kofta and Gravy together for 1 min on low flame, switch OFF the stove.
Palak Paneer Kofta Curry is ready to serve. Garnish it with Coriander leaves. Enjoy with Naan, Chapati or Paratha.