Instant Jalebi Recipe with Yeast- Crispy Crunchy Juicy
Instant Jalebi is a Crispy Crunchy Juicy homemade sweet in 20 minutes. No fermentation time needed with dry yeast. Video in Hindi with step by step images.
Maahi Gupta
Updated 13 Jul, 22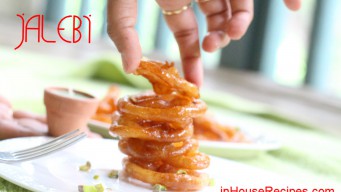 Instant Jalebi Recipe - Crispy Crunchy Juicy Jalebi
Instant Jalebi is a Crispy Crunchy Juicy homemade sweet in 20 minutes. No fermentation time needed with dry yeast. Video in Hindi with step by step images.
Ingredients
1

Cup

All Purpose Flour

Maida

1

Tbsp

Gram Flour

Besan

1/2

Tbsp

Cornflour

1

Tsp

Dry Yeast

1/4

Cup

Curd (Yogurt)

Un-sweetened Yogurt

2

Cup

White Sugar

5/4

Cup

Water

3

Cup

Oil

Or Quantity would depend on the size of your frying pan

1

Tbsp

Oil

For making Batter or Jalebi mix
Instructions
Preparing Jalebi Batter or mix Prep Time – 3 minutes
Jalebi batter is nothing but the paste or mix. Batter is the word mostly used in India. In other places like USA or UK, people refer to it as a mix.

Start with 1/4 cup of warm water. Add Yeast. Mix well and let it sit for 1 minute. The yeast needs to be diluted in water.

Now, take a bowl. Add All-purpose-flour Maida, Gram flour Besan, Cornflour, Curd Yogurt and diluted Yeast. Mix well and try to remove any visible lumps.

We need to make a smooth batter and therefore need to add small quantity (like 1/4 cup) of water gradually and keep mixing.

Smooth batter is ready. We have used total of 1/2 Cup (Our 1 Cup = 240 ML) water for this paste. 1/4 cup that we added explicitly and 1/4 cup came from Yeast paste.

Lets keep this batter aside for about 10 minutes. In the mean time, we can prepare the Sugar syrup Jalebi Chashni.
Making Jalebi Chashni Sugar Syrup – 1 String consistency Cook time – 15 minutes
Take a pan and add Sugar along with 1.25 Cup (Our 1 Cup = 240 ML) of Water.

If you want to add some aroma to Sugar syrup, you can add Cardamom powder. We are adding 1/2 tsp Cardamom. This is optional though.

Let it cook on high flame for a minute and then turn the stove on medium flame.

The sugar will dissolve itself within 1 minute and then it should be cooked until it achieves 1 string consistency.It should take about 15 minutes.

Sugar syrup is on its way and on the other side, we can keep Oil for heating-up in another pan.
Getting Jalebi Frying Pan Ready and watching Sugar syrup Prep Time – 2 minutes
The Jalebi frying pan should have flat base with small depth. Add the Oil to fill up this pan up-to 50% of its depth. Let it heat-up on high flame for 2 minutes.

Once Sugar syrup gets ready i.e. achieves 1 string consistency, turn the stove on low flame.

To measure 1 string consistency: Take small amount of syrup in a spoon and use your index finger and thumb to pick a drop.

You would see a string developing between the index finger and thumb. If you see 1 string, the Sugar syrup is ready else it would need another 1-2 minute on stove.

If the Sugar syrup is ready, turn the stove on low flame. This will help keep the sugar syrup hot till we dip Jalebi in it. This is not essential but is recommended.
Loading Jalebi Batter In Jalebi Dispenser Prep Time – 1 Minute
You can use a zip lock bag or a milk plastic bag to fill Jalebi batter or the small bottles which look like tomato ketchup dispensing bottles also called Jalebi maker bottles.

We have filled a small bottle You can also use a ketchup dispenser to dispense Jalebi Batter.

If you are using a zip lock bag or a milk bag, make a 5 mm cut on one of its corners.

We recommend using the bottle as the milk bag or zip lock bag are not considered safe. It has happened with us that the bag burst in the middle of dispensing right on top of the hot Oil. So, it is better to be safe while frying.
Frying Instant Jalebi Cook time – 3 Minutes
It would be a bit difficult to make any specific design in the first go. You will learn it with experience.

Try to roll your hand in a way that a circle is completed and then keep adding more circles around the primary circle.

Let it fry until it turns golden brown from both sides. Remember that you would need to flip it too. It would take about 3 minutes to fry 1 Jalebi completely.
Mixing Jalebi with Sugar Syrup Cook time – 1 Minute
Make sure that you dip the Jalebi completely in Sugar syrup to absorb (soak) as much juice as it can. You can use a spatula or a spoon to keep it sub-merged.

After 1 minute, take out the Jalebi from Sugar Syrup. It is now ready to serve hot.

Enjoy this awesome Jalebi and do share your feedback..Good luck.
Notes
You can garnish Jalebi with Pistachio and Saffron if you want before serving.
The Jalebi can refrigerated for up-to 2-3 days. Re-heat Jalebi using a Microwave again before consumption. Do NOT re-fry it to re-heat.
You might want to accompany Jalebi with Aloo Samosa and Gulab Jamun. Do you?
Nutrition
Calories:
445
kcal
Carbohydrates:
30
g
Protein:
2
g
Fat:
36
g
Saturated Fat:
5
g
Polyunsaturated Fat:
4
g
Monounsaturated Fat:
26
g
Cholesterol:
0.4
mg
Sodium:
11
mg
Potassium:
14
mg
Fiber:
0.4
g
Sugar:
20
g
Vitamin A:
5
IU
Calcium:
2
mg
Iron:
0.5
mg