Hari Mirch Rai Achar – Green Chili Pickle With Red Mustard Seeds
Hari Mirch Rai Achar with video in Hindi and step by step pictures. Boil Green chili, mix with red mustard seeds powder, lemon and salt to make at home.
Maahi Gupta
Updated 13 Jul, 22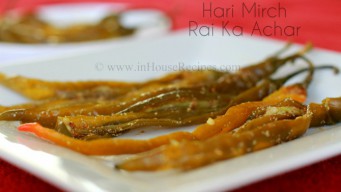 Hari Mirch Rai Achar - Green Chili Pickle With Red Mustard Seeds
Hari Mirch Rai Achar
(Green Chili Pickle with Red Mustard seeds) is a famous pickle from India. We usually make this
achar
during winter season.
Hari Mirch ka rass wala achar
has the word
rass
(Juice) because of the presence of Lemon juice. This makes the pickle tangy in flavor.
The Green chili that we are using are long and sleek. You should also get the same shaped chili to get better taste and results.
There is no specific criteria for the hotness of Green chili.
Hari Mirch Ka Rai Wala Achar
tastes great with any main course meal. You would normally serve it as a condiment with rice and bread.
The basic difference between the
stuffed Green chili pickle
and this one is the stuffing.
Here, we are not stuffing anything inside the Green chili as compared to former.
See also: Gajar Gobi Rai Achar
Please note that we are using the
red mustard seeds
and not the yellow ones.
Ingredients
100

g

Green Chili

Thin and long in shape

1/2

tbsp

Red Mustard seed powder

Rai Or grind mustard seeds to a powder

1

tsp

Salt

2

tbsp

Lemon Juice

500

ml

Water
Instructions
Half boil Green Chili Cook Time – 5 Minutes
Mixing Chili with Mustard Cook Time 2 Minute
Take a glass jar (any old pickle jar would work) in which you are going to keep pickle. The jar should be washed and clean, if you are re-using an old one. You can also use plastic based bottle. We recommend a glass based jar as you can find it easily in your kitchen.

Non clean jar can result in spoiled Pickle.

Add Green Chili, Salt, Red Mustard Seeds Powder and Lemon juice in the jar.

Now close the jar with its cap and shake it well.

Pickle preparations are done.
Keep Pickle in Sunlight Prep Time – 3 days
Now keep the jar aside for 3 days and then it will be ready to eat.

Normally in India, we would keep the jar in direct sunlight for 2 days. This helps the chili to soften faster even in Indian winter season.

If you do not have the option of keeping it in sunlight, do not worry. Keep it in your kitchen for 3 days. The idea is to provide it a warm temperature.

Home and kitchen in countries like USA and UK are centrally heated and hence provide suitable temperature for the Achar.

Do shake the jar once everyday.
Notes
Nutrition
Serving:
20
g
Calories:
1
kcal
Carbohydrates:
0.1
g
Protein:
0.02
g
Fat:
0.004
g
Saturated Fat:
0.0003
g
Polyunsaturated Fat:
0.002
g
Monounsaturated Fat:
0.002
g
Sodium:
24
mg
Potassium:
4
mg
Fiber:
0.02
g
Sugar:
0.1
g
Vitamin A:
10
IU
Vitamin C:
3.3
mg
Calcium:
0.2
mg
Iron:
0
mg