Greek Yogurt – Hung Curd Recipe – High Protein – Video
Greek Yogurt is Hung Curd in India. Straining plain curd gets rid of fat and extra water, making it thick like Paneer roll. High protein helps weight loss.
Maahi Gupta
Updated 13 Jul, 22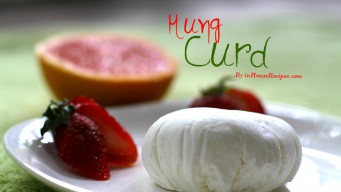 Greek Yogurt - Hung Curd Recipe - High Protein - Video
Greek Yogurt
is what is commonly known as Hung curd in India.
Greek Yogurt is known as Hung Curd in India. It is normally made by straining the plain curd to get rid of the fat and extra water. Straining results in the thickening of the curd just like a Paneer roll.
The resultant curd is considered very healthy as it contains double the amount of protein than the same quantity of curd. Fat free greek yogurt is recommended in the weight loss programs too to get more protein than fat.
The other application of Hung curd is found in making
Dahi Kabab
if you are not on diet!
If you want to stay on the healthy side, you can top up Greek yogurt or Hung curd with fruits like strawberry, mango or nuts to add more vitamins and protein.
Ingredients
1

Cup

Curd

Yogurt, Skim or Whole Milk
Instructions
We are making a unique dish called Hung Curd or more popularly known as Greek Yogurt.

Hung curd is used as primary ingredient in making Dahi Kabab – A famous snack.

The recipe is very simple and anybody can do it. We need plain curd/yogurt for making hung curd/Greek yogurt.

Any Curd/Yogurt has got good quantity of water even if it is not explicitly visible.

We would need a cotton cloth like a handkerchief. We would also need a bowl and a Sieve.

Now, place Sieve on top the bowl and then place cotton cloth on top.

This cloth will be used to hang Curd. Pour all the curd into the cotton cloth.

Fold all the corners of the cloth to hold and hang it somewhere in your kitchen. You can use any paper clip or cloth hanging clip to hang.

The water will continue to rinse from this cloth. Hence, it is important that you hang it over a sink or a bowl.

Hang it for about 4-5 hours. This will help rinse away as maximum water as possible.

After 4 hours, Hung Curd or Greek Yogurt is ready.

This is also known as Greek Yogurt in western world.

Greek Yogurt is famous for its double protein content as compared to plain yogurt.
Notes
If you don't like to diet, you can preferably make Dahi Kababs with this Hung Curd/Greek Yogurt.
If you want to eat this curd as it is, then you can add some Strawberry or Mango Pulp or Nuts to make it interesting.
Nutrition
Calories:
210
kcal
Carbohydrates:
7
g
Protein:
25
g
Fat:
9
g
Saturated Fat:
6
g
Polyunsaturated Fat:
0.3
g
Monounsaturated Fat:
3
g
Cholesterol:
29
mg
Sodium:
779
mg
Potassium:
208
mg
Sugar:
3
g
Vitamin A:
300
IU
Calcium:
150
mg
Iron:
0.4
mg