Dal Cubes Recipe – Tea Time Snack – Video
Dal Cubes, unique fried snack for tea time. It is a crisp, spicy and Cube shaped breakfast appetizer made with Chana Dal.
The most interesting part of this snack is its unique shape. You must have seen and eaten lot of pakoras in your life with myriad shapes, but you will find this one a unique one out of the lot.

Try this once and let us know if you don't fall in love and we will try to treat you with some more like these

We all liked it at our home and hope that you and your guests will also love them.
Ingredients
Yield 15 Cubes of medium size
Nutrition Facts
Dal Cubes Recipe - Tea Time Snack - Video
Amount Per Serving
Calories
534
Calories from Fat 495
% Daily Value*
Potassium 112mg 3%
Total Carbohydrates
10g
3%
* Percent Daily Values are based on a 2000 calorie diet.
Instructions
Ingredients for Dal Cubes.
We will start the process with soaking the Chana Dal in water for 2 hours. Make sure Dal is completely submerged in water.
After 2 Hours, separate the Dal from Water and put it in a grinder jar to make a smooth paste.
First, grind the Dal for 20 Seconds. Dal will only be half grind in 20 sec. Add the chopped Onion, Green Chilies, Grated Coconut, Turmeric Powder, Salt and Asafoetida in it. Grind it again until you get the smooth paste.
Now add 1 Tsp of oil and give another round of grinding (30 Seconds) to the mixture. This is just to make it bit more smooth.
Now, take an aluminium tin (round or any other shape) and grease it with oil on all its inner surface. We will use this tin for steaming the mixture for 15 minutes. Oiling will help us avoid sticking of the mixture on the surface of the tin while steaming.
Now pour the prepared Dal mixture in greased tin for steaming.
Take a pressure cooker. Add 500 ml Water and place one small Water filled bowl at the center of the cooker as shown in image. Keep the stove on high flame.
All this set up is for steaming the Dal mixture. You might find this method strange but it works.
Once you see the Water is boiling, place the aluminium tin on top of bowl (as shown).

Be careful about your hand. It should not come in contact with the cooker walls and boiling water.

Cover the lid of the cooker (do not keep the whistle over the cooker lid) and let it cook for 15 minutes on medium flame.

The idea is to only provide steam to Dal paste, hence we don't need to lock the cooker lid. Once done, switch off the stove and take out the tin from the cooker.
After 15 minutes, your dal mixture will solidify and will look like the one shown in image. Keep aside to cool down to room temperature.
Once it cools down, use a knife to cut it in small cubes (as shown). You can give any shape of your choice like a triangle or anything you like. We are giving them a cubical shape.
These cubes now need frying.
Heat Oil in a pan on high flame. Wait until you see smoke coming out of the oil.
Add Dal cubes in hot Oil for deep frying. Flip them occasionally to avoid burning.
Once they achieve light golden brown color (as shown), remove them from hot oil. Keep them on a tissue / Oil-soaking paper. It will help soak all the extra oil.
That's it. Dal Cubes are ready to eat with any sauce of your choice. Serve them hot with Coriander chutney or if you like to spice up your evening, you can even try it with spicy Momo's sauce.
Storage and Serving Suggestions
Sharing your views and suggestions will help us try more of these unique and simple recipes. If you liked this new style of snack, i am sure you would also love to try
vegetable rice kababs
. They are something different than the normal league of pakoras.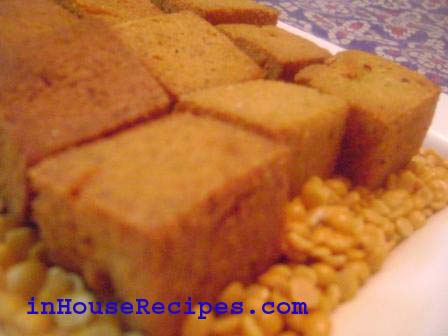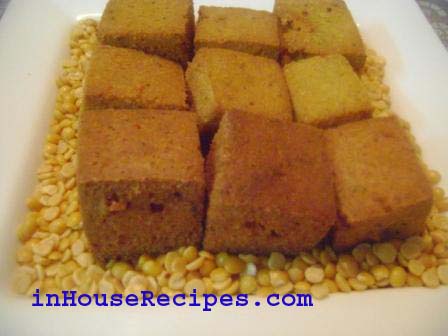 Recipe
Recipe In English