Boiled Rice In Microwave Recipe [Video]
Basmati Rice in microwave can be cooked in 11 minutes. Its faster than cooking on stove. Use 2 cups of water for each cup of rice. Washing rice is optional.
Maahi Gupta
Updated 15 Nov, 17
White Basmati rice can be be cooked in just 11 minutes with no extra baggage. Yes, this speed is possible with a Microwave.
On the other hand, if you
cook rice in an open container
, it might take about 15 minutes. That's a good 4 minute advantage!
Related: Brown Rice Recipe - The healthier option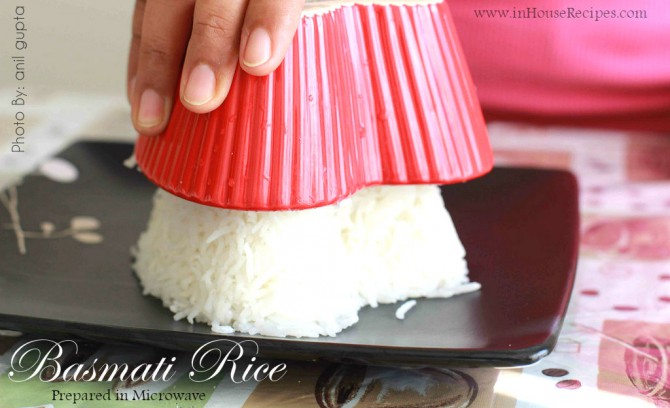 Ingredients
Yield 3 Cups Cooked Boiled/Steam Rice (Good for 4 people)
Nutrition Facts
Boiled Rice In Microwave Recipe [Video]
Amount Per Serving
Calories
102
Calories from Fat 2
% Daily Value*
Potassium 27mg 1%
Total Carbohydrates
22g
7%
* Percent Daily Values are based on a 2000 calorie diet.
Instructions
Washing and Soaking the Basmati rice (Optional)
Washing the white rice is recommended as they are the polished version of brown rice. Polishing is done to make the rice grain look shiny and whitish.

Wash rice and drain the water until you see the near-clear water.

Although you can skip the soaking part, it is highly recommended especially for Basmati rice.Soak them for 30 minutes to get best rice grain length.

After 30 minutes, drain the water.
Boiling rice in Microwave
We need a microwave safe bowl to start the process. It should be big enough to contain the rice with water and still have 30% of space left.

Add 2 cup water and rice in the bowl.

As a general rule, we use 2 cups of water for each cup of rice.

Keep it in microwave for 11 minutes. There is no specific temperature that you can generally set up in a microwave. It should be on high, if there is any such option in your microwave.

After 11 minutes, take out the bowl from microwave. White rice is now ready to serve hot.
Storage and Serving Suggestions
Keep the rice covered with a lid until served. It helps in retaining the moisture and keep rice grain soft and tender.
Rice can be refrigerated for up-to 3 days for best taste and results.
You can re-heat the rice in microwave before serving.