Suji Gol Gappe Recipe – Puri from Pani Puri – Video
Suji Gol Gappe or Pani Puri easy recipe at home. Delhi style oval shaped crispy Puchka can really make your shopping trip complete.
Maahi Gupta
Updated 13 Jul, 22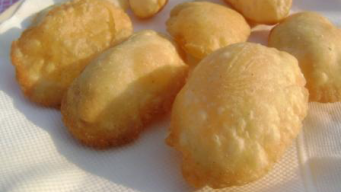 Suji Gol Gappe Recipe - Puri from Pani Puri - Video
Suji Gol Gappe or Pani Puri easy recipe at home. Delhi style oval shaped crispy Puchka can really make your shopping trip complete.
Ingredients
1/4

Cup

All Purpose Flour

Maida

1

Cup

Semolina

Suji

2

Cup

Oil

or Enough for frying

2

Tsp

Oil

For kneading dough

1

Cup

Water

or Enough for making dough
Instructions
Preparing the dough
Take a big bowl, add Semolina, All Purpose Flour and 2 Tsp Oil. Mix well.

Now gradually add Water and knead it with hands to make a dough.

Knead for about 3 minutes to make a smooth dough. This will help us get crispy Gol Gappe. Make Sure that your dough should not be extreme tight or soft.

Once you are done with dough, cover it with a bowl and keep it aside for 5 minutes.
Rolling to make Flat-bread or Gol Gappe
After 5 minutes, we will take small balls of dough to roll them into a small flat-bread called gol gappa.

Roll the dough and press it a bit using your palm. Use rolling pin to give the balls an oval or round shape. We prefer giving it an oval shape.

You can make all the Gol Gappe in similar fashion.
Frying the flat-bread to make Gol Gappe
Take a frying pan and add sufficient Oil for deep frying. Heat it on high flame. Heating should be done for about 2 minutes before starting with next step.

Once hot, carefully add flat-bread pieces.

Turn the stove on medium flame immediately after adding the flat-bread. Fry them until they get golden brown in color.

Once they achieve golden color from bottom, flip them and fry for another 5 seconds.

Usually, Gol Gappas are only fried to golden brown color from one of their face. The other face is left white or un-fried. So, take out them from hot oil after 5 seconds.

Please don't get dis-heartened if some of gol gappe do not fluff. This is normal. The ones which are not fluffy, can be used as Papri. In-fact, this is what all gol gappa vendors also do

Now, the Gol gappas are ready to enjoy.
Pre-requisites – The stuff you would need
Gol Gappe are ready but how should we eat them? Well, There are couple of things that you need to do if you want to enjoy the complete package! First of all, get the boiled potatoes and boiled chick-peas. If you do not have both, any one of them would also be sufficient. You can also substitute these with Boondi. Then, prepare the chatpata Gol Gappe Pani and preferably sweet tamarind chutney or Amchoor chutney. Some people also like to use Coriander chutney too along with the other chutneys.
Making Gol Gappa stuffing and eating
If you have collected the above stuff, then you are ready to gulp those gol gappe straight in your mouth.Here is the process that is normally followed in Delhi. I am saying Delhi specifically as I have seen Mumbai people eating it differently by assorting in a plate. The Gol Gappa stuffing process is pretty much similar but the way they are served changes with region!

Take a bowl. Chop boiled potato into small pieces and add it to the bowl.

Add boiled Chick peas.

Now add Tamarind/Amchoor chutney along with Coriander chutney as per your taste. Mix all of them together and your Gol Gappa stuffing is ready.

Pick up a gol gappa and make a hole on its head using your thumb. The face is easily identifiable as the golden colored portion. Use soft hand pressure else you might just break the whole gol gappa into pieces!

Stuff in the stomach of Gol Gappa with the potato chick-pea mixture that we made above.

Now, dip this gol gappa in the gol gappa paani and immediately open the mouth as big as possible to gulp it-in completely.

What are you waiting for now? Do I need to tell you the next step? The Gol Gappa should have melted in your mouth by now. Eat more and Enjoy!!
Notes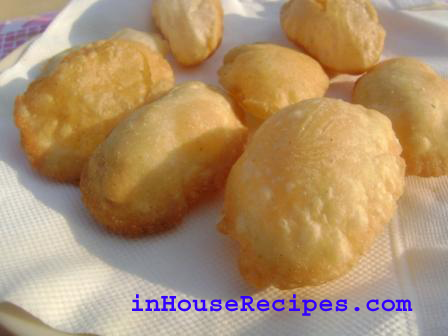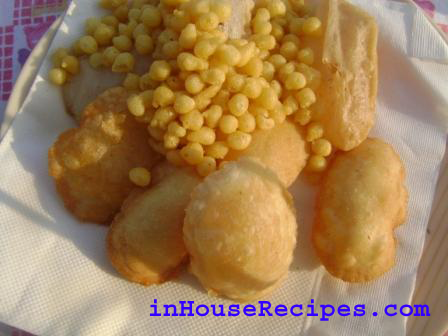 Gol Gappe do not need any refrigeration and hence can be stored for as long as 2-3 months.
The only problem you might face is the moisture that might take away their crispness. So, it is advisable to store them in an air tight container if you plan to store for more than 1-2 days.
The other accompanying stuff like boiled potato, chutneys etc. have their own defined lifetime.
Nutrition
Calories:
335
kcal
Carbohydrates:
41
g
Protein:
7
g
Fat:
15
g
Saturated Fat:
2
g
Polyunsaturated Fat:
2
g
Monounsaturated Fat:
11
g
Sodium:
2
mg
Potassium:
78
mg
Fiber:
2
g
Sugar:
0.2
g
Calcium:
10
mg
Iron:
1.1
mg