Spicy Tomato Spread Recipe – Crisp Bread Toasts
Spicy Tomato Spread is quick 10 minutes recipe. Bread slice, easy vegetables found in every kitchen are used to make fast healthy breakfast.
Spicy Tomato Spread is a quick recipe which can be ready in just 5 minutes and does not need much of resources. Only a simple bread and some common vegetables found in every house are sufficient to make this spicy and tasty Jam or Sauce or Spread.

You can spread it on toasted bread while you are rushing for office or have it in evening with sips of your coffee.
Ingredients
Nutrition Facts
Spicy Tomato Spread Recipe - Crisp Bread Toasts
Amount Per Serving
Calories
182
Calories from Fat 27
% Daily Value*
Potassium 1080mg 31%
Total Carbohydrates
36g
12%
* Percent Daily Values are based on a 2000 calorie diet.
Instructions
Making the Tomato Spread
Preparation Time : 7 Minutes
Ingredients for Spicy Tomato Spread Toast.

Melt butter in a non-stick pan on medium flame for 30 seconds. Add grated Ginger & Garlic and cook until they become light golden brown in color. It should take about 1 minute for them to change their color.

Add chopped Green Chilies and Cardamom Powder. Mix well.

Add Cumin Seeds and keep the stove on medium flame. We have to wait until they turn dark brown in color. It should take about 1 minute.

Once Cumin turns dark brown in color, add grated Onion. Cook until it gets pink in color. Onion would take about 2 minutes to change their color.

Now it is time to add Black Pepper and Salt. Mix well. Keep the stove on medium flame.

Now add Tomato Paste and Sugar. Mix well and cook until all the water is evaporated from the Tomatoes. The final gravy or the resultant spread should be dry i.e. without Water. The heat will help evaporate the water in about 1-2 minutes of cooking.

Now add chopped Coriander Leaves (Cilantro) and mix well. Once done, switch off the stove and keep it aside for later use. Our spicy Tomato spread is ready and we now need to toast the bread.
Toasting the bread Time: 2 Minutes
Add the bread slices to the toaster to make the slices crispy and golden brown in color. If you don't have a toaster, you can just cook slices on griddle or standard Indian style Tawa.

Take out the slice once, it is golden brown in color.We need to roast bread on high temperature for about 1 minute. The time and temperature are highly instrument Toaster specific. So, you should take care of your bread slices according to your toaster's heat levels.

Once the slices are ready, they would usually pop out of the toaster. Don't worry, they won't fall off the shelf. I know its a poor joke.
Spreading Tomato spread on Bread Toast Time: 1 Minute
Keep the Bread slices in a plate and spread the prepared Spicy Tomato gravy on any one side.

You can even spread it on a bun. We did it and have shared an image below.
Storage and Serving Suggestions
Tomato spread can be preserved for about 4-5 days with refrigeration.
You can use it as a ready to eat spread with almost any type of bread including a chapati, Bun, Pav, Pizza or Parantha.
There is no need to re-heat before using if you had refrigerated it. Some people do like to re-heat it for 30 seconds in a microwave though.
It comes pretty handy if you are in hurry and want to grab breakfast in the morning.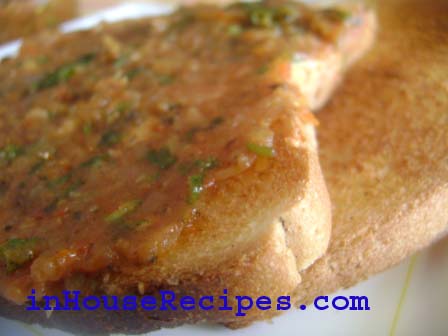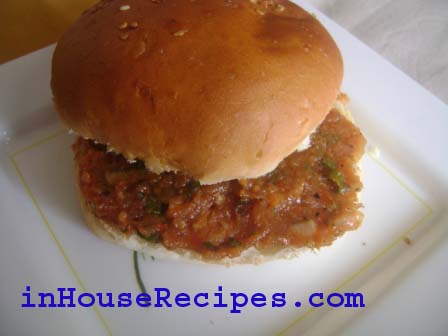 Recipe
Recipe In English