Suji Pancakes Recipe – Sooji Ka Cheela
Sooji pancake is a fast breakfast with 90 calories. Add vegetables on top to make it healthy and make within 7 minutes. Suji ka cheela is an easy recipe.
Sooji pancake
is made with the Semolina within 7 minutes. It is also known as
Suji ka Cheela
.
The question about 'How to make
Suji ka Cheela
' is answered in this tried and tested recipe from our kitchen.
Pancake
is an English term, generally used to refer to a small round shaped flat-bread made with All-Purpose-flour (called
Maida
in Hindi). Its translation in Hindi is the word '
Cheela
'.
This can serve as a great
appetizer
or a breakfast when you are out of time. You can pretty much top it up with any vegetable that you like. No need to boil the veggies, just add raw and they will roast while we cook it on pan.
Some recipes just use the water to dilute Sooji, but we use Curd (or commonly known as plain Yogurt in USA). It makes it a bit healthier as curd adds protein.
A similar pancake or
Cheela
is made with Gram Flour and is called
Besan cheela
in Hindi. You can also call it Besan Pancake.
Ingredients
Nutrition Facts
Suji Pancakes Recipe - Sooji Ka Cheela
Amount Per Serving
Calories
128
Calories from Fat 36
% Daily Value*
Potassium 152mg 4%
Total Carbohydrates
18g
6%
* Percent Daily Values are based on a 2000 calorie diet.
Instructions
Making Suji Paste
Preparation Time: 2 Minutes
Ingredients for suji pancake.

First of all chop Tomato, Onion and Green Chili in small pieces as shown. Mix all three.

Take a bowl and add Semolina (Suji). Add Curd and mix well.

Add 1/4 cup water in Semolina to make a smooth paste.

Add Garam masala, Red Chili powder and Salt. Mix Well.

Suji might loose its consistency while mixing. If required, add some more water to bring to dropping consistency.

The paste should neither be too thick nor too liquid. Maintain a dropping consistency.

Suji paste is ready.
Cooking pancake or Cheela
Cook Time: 5 Minutes
Take a flat base pan and heat it on high flame for 2 minutes.

After 2 minutes, spread 1 tsp of Oil on pan surface equally.

At this time, the pan would be hot enough to start cooking. Add 1/4 tsp of Fruit salt or Eno to Suji paste and mix well. Once fruit salt is added, do not wait to make the pan cakes. The fruit salt helps fluuf the paste a bit and it is important to immediately start the next step.

Turn stove to low flame and spread 3 tsp of batter on pan using a spoon. Try to add 3 tsp in one shot even if you have to use a bigger sized spoon.

Once you drop the paste, press it at the center with spoon and rotate in circle to form a round shaped flat-bread.

Do not overstretch. The circle should have a diameter of about 4 inches.

If your pan is big enough to hold more than 1 cake, you can certainly cook more simultaneously.

Now spread onion, tomato and green chili mixture on top of Pan cake.

Use a spatula to lift the pac-cake bottom to check, if it has turned golden brown from bottom. If it has, spread few drops 4-5 of Oil on top face with vegetables of pan cake.

Now turn it over flip and cook from other side too.

Once golden brown, it is ready.

Garnish it with coriander leaves and enjoy with Tomato sauce or green chutney (sauce).
Storage and Serving Suggestions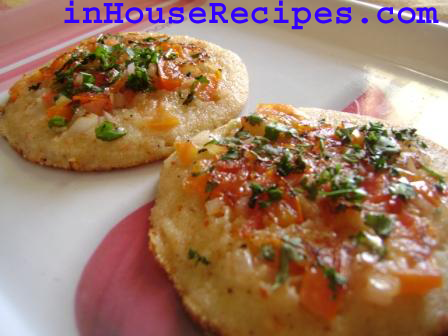 Sooji ka Cheela is best enjoyed with a hot drink like tea or coffee in breakfast.
You can refrigerate them and re-heat in a microwave for 30 seconds before serving.
You can also eat them like a sandwich. Just keep two pancakes on each other keeping their top inside. It tastes great like this too .
Recipe
Recipe In English