How To Roast Jeera or Cumin Seeds [Video]
Follow this easy recipe to roast jeera at home. You can even make a roasted jeera powder using this recipe for garnishing raita. Jeera adds a unique flavor.
Looking to roast Jeera at home?
Here is a simple and quick recipe of roasting Cumin seeds at home. You may already know it but i have shared this method as part of showing up the basic things for people who are starting learning cooking.
Roast Jeera (Cumin Seeds) Recipe In Words
Prep time:
Cook time:
Total time:
Yield:
1/2 cup of roast Jeera
Ingredients:
1/2 cup
Cumin seeds (Jeera)
Method
Add 1/2 cup of Cumin Seed (Jeera) in a pan. Roast it on medium flame until it gets fluffy or changes its color.
Stir it occasionally to avoid burning.
After couple of minutes, cumin would change its color to golden brown. Switch off the stove.
Now keep it aside to cool down.
Once it cools down completely. Roasted Jeera is ready.
Some people also like to make a rough powder out of this roasted Jeera. If you also want to do it, then add it to the grinder jar and grind it to make a rough powder.
After grinding, Cumin Powder is ready to use in Raita or any other vegetable.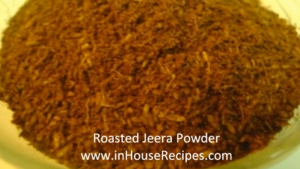 I hope this tip will be useful for you all. Thanks for being with inHouseRecipes.
Quick Tips
Video