Peas Chilli Maggi In Microwave Recipe [Video]
Peas Chilli Maggi in Microwave Recipe. Yes,you can prepare Maggi in just 14 minutes in Microwave. Easy to make and super delicious to eat.
Maahi Gupta
Updated 15 Feb, 14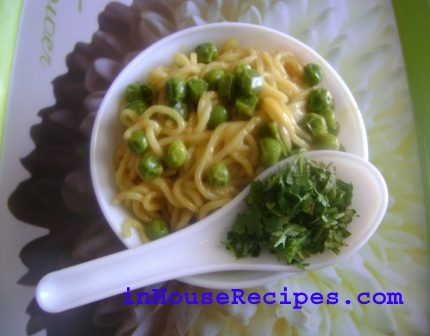 Making Maggi in Microwave is as simple as making it on stove. You would argue that why the hell i would need a microwave if i can make it on stove? Well, there are instances and places where you might not have a stove available. The most common place that i know is office where the chances of having a microwave are much higher than a stove.
So, this recipe is for people who want to eat their favorite Maggi even if they have to use Microwave.
Maggi In Microwave Recipe In Hindi With English Subtitles
Maggi in Microwave Recipe In Words
Prep time:
Cook time:
Total time:
Yield: 1 Pack Maggi (good for 1 Person)
Ingredients:
1/2 Cup (Our 1 Cup = 240 ML)

Peas

1

Green Chili

1 Pack(82gm)

Maggi

2-1/2 Cup (Our 1 Cup = 240 ML)

Water

1 Pack

Maggi Taste maker
Method
Take a microwave safe bowl. Add Water and Peas.
Cook it in microwave for about 3 minutes. Maggi cooks faster than Peas so we are cooking the peas first.
After 3 minutes, take out the bowl from microwave. Add chopped Green Chili and Maggi noodles.
Cook it for 5 minutes.
After 5 minutes, take out the bowl again. Add Maggi taste maker and give it a stir.
Now we have to wait for another 5 minutes to enjoy this delicious Maggi
After 5 minutes, check if Maggi noodles have softened and hence cooked completely or not.
Peas Chilli Maggi in Microwave should be ready to enjoy by this time. But, if the Maggi noodles are still a bit hard, you can cook it for another 2 minutes.
If Maggi noodles have softened, you can now start attacking it before anyone else in the office smells and comes for a share!!