Onion Cheese Paratha Recipe [Video]
By Maahi Gupta, 15 Nov, 17 0 Recipe
Learn how to make Onion Cheese Paratha easily at home. This is a healthier substitute for the Garlic bread that you get in Italian restaurants.
---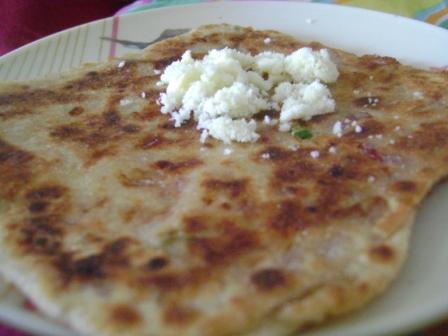 Onion Cheese Paratha is a special treat for cheese lovers. It is made in quite a similar way as one would make a stuffed garlic bread. If you have tried the Dominos stuffed garlic bread, you would like this desi and healthy version.
We are saying healthy as this paratha is made with whole wheat flour whereas the garlic bread is made with refined wheat flour (Maida).
You can pretty-much add anything like corns, capsicum or Paneer along with cheese to make it more exciting. We are adding onion and cheese combination.
Onion Cheese Paratha Recipe Video In Hindi With English Subtitles
Onion Cheese Parantha Recipe In Words
Prep time:
Cook time:
Total time:
Yield: 1 Onion Cheese Parantha
Ingredients:



2 Tsp

Cheese




Enough for 1 Parnatha

Wheat Flour Dough




Enough To Roll the Parantha

Dry Wheat Flour




2 Tsp

Chopped Onion




1/2 Tsp

Finely Chopped Green Chilies




2-3 Tsp

Oil




1/4 Tsp

Black Pepper Powder




1/4 Tsp

Salt

I hope you would try this delicious and crispy Paratha in your kitchen. Do share your feedback.