Namak Pare Recipe At Home | Salty fried dough slices
Namak Pare can be made easily at home with the same crispness and salty taste at home. My son loves them and here is my tried and tested recipe for you.
Maahi Gupta
Updated 13 Jul, 22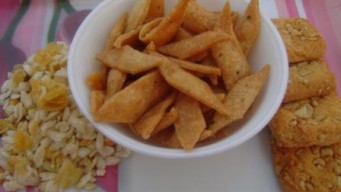 Namak Pare Recipe At Home [Video]
Looking out for a tea time snack? Want to try Namak Paare? I know that they have been a favorite of North Indians for a long time and they still find the first place as far as tea time snacks are concerned. They can be made once and have long shelf life too. So there is no need to make them fresh everyday for your tea time.
Ingredients
For Dough
1

Cup

All Purpose Flour

Maida

2

Tbsp

Semolina

Suji, Sooji

1

Tsp

Salt

Namak

1/2

Tsp

Carom seeds

Ajwain

2

Tbsp

Oil

3/4

Cup

Water

Or as needed to make a little tight dough.
Instructions
Kneading of Dough
Take a big bowl to make a Dough.

Add All Purpose Flour in the bowl along with Salt, Carom Seeds and Semolina.

Make a well in the flour and add Oil. Mix well until Oil is incorporated in Flour.

Now add Water gradually in the flour and make a smooth dough. Keep kneading for about 5 minutes to a make smooth dough.

Dough is ready to use.
Rolling of the Namak Paare
Now take a small amount of Dough and roll it with rolling pin to a round shape. Keep 1/8 inch of thickness(approx).

Lets take a knife to cut it into the Diamond share(Namak Paare shape). First Horizontal lines and then vertical lines.
Frying the Namak Paare
Take a frying pan and add enough Oil for deep frying. Let it warm on medium heat.

Now add half of the Diamond shape cut Namak Paare in Oil and turn the stove to low flame.

Let it fry for about 8-10 minutes until they are golden brown in color. Keep stirring occasionally while frying.

Note: Do not increase the flame of the stove while frying that will only change the color of the Namak Paare but will not cook them from inside. It will be crispy and crunchy if you fry it on low flame.