My experiment with Ice Cream pakora – Fried ice cream
By Anil Gupta, 28 Dec, 14 2 Recipe
This is an experiment with making Fried ice cream or ice cream pakora. Ice cream does not melt if it is covered in egg shell and corn flakes. Interesting find.
---
Spoilers ahead!
If you are wondering if I (Anil Gupta) could make such a beautiful Ice Cream pakora as shown in the picture, then I must say that you are grossly wrong!
This is a picture shared by one the baking expert whom we met through inHouseRecipes somewhere in 2008. His name is Abhishek and he used to be a chef in one of the 5 star hotels in Delhi.
I am not sure if this picture is from his original recipe or it has been picked up from internet.
He did share the recipe with us. My engineer mind asked me to give it a try even though my wife had real doubts about frying something like an Ice Cream.
For this particular cause, my wife and mom had the exactly same thought process for the first time in my married life!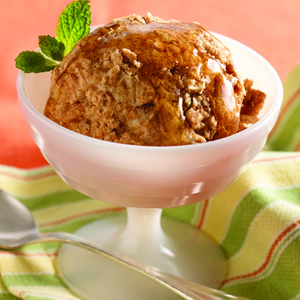 Ice Cream Pakora Experiment – This picture does not reflect the one I made
It seems that I did succeed in my attempt even though the result was nothing like the picture posted above! Don't get deceived…
To add to the ice cream stability, the chose the Delhi's hot weather of May! You know what it is like frying an ice cream and that too in 43 Degree Celsius temperature…only Anil Gupta can do it…haha
The first video is somewhat got me to the last step and I did got to eat a bit of that ice cream pakora finally! The video has noisy audio as it was shot somewhere in May 2008 when we were just starting to learn video recording. I hope you won't even notice the noise if you concentrate on my expert advice on frying ice cream!
Over-whelmed by the response with ice cream pakora (with egg) above, I went ahead to repeat my success with the eggless ice cream pakora. Here is what happened…boom….
If you are also interested in giving it a shot, this is the recipe I tried. It is by no way a well formatted recipe. It also has various failure points. Try it at your risk!!
It would be great if anyone of you has ever tried this and share the recipe with us…
| | |
| --- | --- |
| Prep time: | |
| Cook time: | |
| Total time: | |
| Yield: | 2 Bowls (good for 2 people) |
Ingredients:
4 Scoops

Ice Cream

(Vanilla or chocolate – whatever you like to fry!)

A Couple Of Cups

Cornflakes

For Deep Frying

Vegetable Oil

1

Egg
Method
On a plate, spread out about half of the cornflakes, and working one at a time, roll each of the four scoops of ice cream in the cornflakes until they are well coated.
Transfer the coated ice cream scoops to a clean plate and let them rest in the freezer for at least 2 hours to firm up the ice cream.
After 2 hours, whisk your egg in a bowl, spread the remaining cornflakes on your cornflakes plate and take your ice cream scoops out of the freezer.
Gently transfer a single scoop to the egg bowl, and turn it until the scoop is completely coated in egg.
Transfer the egg coated ice cream scoop to the cornflakes plate and roll it around to form a second layer of cornflakes over the ice cream.
Roll it around well to ensure a solid and unbroken coating of cornflakes.
Repeat with the remaining 3 scoops and then return the ice cream balls to the freezer for at least another 2 hours before frying. (These can be made up to a couple of days before hand and letin the freezer until needed.)
When ready to serve, heat up 3 inches of vegetable oil in a deep fryer to a medium 350.
You can also use a thermometer and a very stable heavy pot to deep fry if you don't have a fryer at home – just be a little careful is all…
When the oil has pre-heated, gently drop a single coated ice cream scoop in and let it fry for about 30 seconds or until it has just colored slightly.
Roll it in cinnamon sugar and transfer to a dessert plate for serving.
Repeat with the remaining ice cream scoops.(Don't try to do them all at once – you will cool the oil too much and end up with greasy ice cream!)
Top with a little whipped cream and enjoy!