Grilled Sandwich Recipe- Potatoes Stuffed In Bread [Pics]
By Maahi Gupta, 4 Sep, 14 0 Recipe
Grilled Sandwich is a quick breakfast recipe which can be ready in just 3 minutes and does not need much of resources either.
---
Only simple bread and Potato found in every house are sufficient to make this spicy and tasty snack. You can eat it while you are rushing for office or have it in evening with sips of your coffee.
Grilled Sandwich – Potato Recipe In Words
Prep time:
Cook time:
Total time:
Yield:
1 Grilled Sandwich – Potato
Ingredients: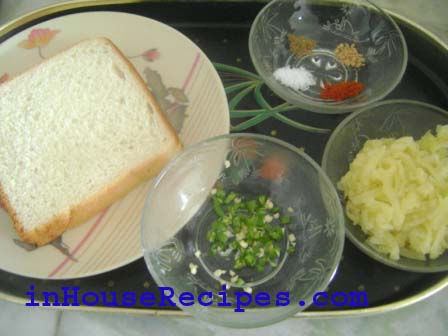 2

Bread Slices

1/2 Tbsp

Grated Boiled Potato

3 Pinch

Red Chili Powder

1

Finely Chopped Green Chili

3 Pinch

Salt

2 Pinch

Mango Powder (Amchoor)

2 Pinch

Garam Masala
Method:
We are assuming that you have taken boiled potato. If not, then please boil them now.Grate boiled potato and place them in a bowl. Add Salt, Red Chili Powder, Garam Masala, Mango Powder (Amchoor) and chopped Green Chilies.Mix all the ingredients well.

Spread few drops of Oil on the toaster. You can use Butter also if you like. This will help the slices away from sticking to the toaster surface.

If you have a non-stick toaster, you may like to avoid Oil/Butter altogether.

But remember that Oil/butter do add crispness to the bread.Now place the sandwiched bread in the toaster and cover the toaster. Cook it for about 2 minutes on high heat level of your toaster. Each toaster has its own level of heat/temperature.

It is advised to keep your specific instrument in mind while deciding the time limit.2 minutes is a safe option.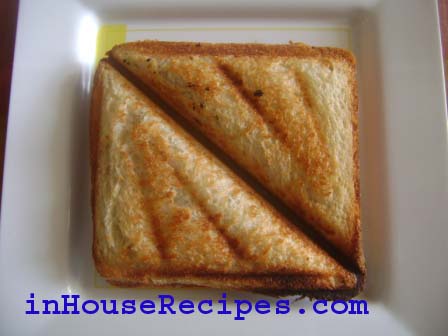 Enjoy this delicious grilled sandwich with friends and family.Keep Watching inHouseRecipes.com for more delicious recipes. Happy Cooking!!!