Gratuity USA = Service Charge in India – A Forced Tip
Gratuity = service charge. Restaurant tip rate is 10% in India, 18% in USA. Gratuity added to bill if group size > 4. Most don't pay in buffet/self service.
Service charge in India is what a restaurant would enforce a tip on you. The concept may be new to India, but, is being followed as Gratuity in USA for a long time.
Restaurants add Gratuity automatically to your bill, if you dined in a group of 4 or more. If you were luckily less in number, tipping won't be forced, but you are expected to play nice.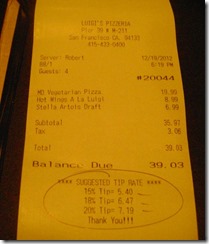 It is almost kind of mandatory, more than, customary to pay this over the top amount, all around the world. Restaurant expects it as a token of appreciation of their service, primarily because their salary structures are designed keeping in mind the tip earning potential.

In India, a waiter would expect about 10-15% of the total bill amount as the tip.

In comparison, expectation in USA starts from 15% and goes up to 20%.
The maximum limits are decided by your wife, if you not dining alone or the gender of serving staff, if are indeed eating alone :).
Difference between Indian Service Charge and Gratuity in USA?
Indian eateries add government taxes on service charge too as per the law.
Whereas, Gratuity in USA is tax free, even if is added to your bill.
Basically, gratuity is meant to be distributed between all the service staff and hence is not eligible for sales tax.
A possibility with both 'service charge' and 'Gratuity' already added to your bill in USA cannot be ruled out. Some high-end food palaces might charge you explicitly for its services under 'service charge' (you would need to pay sales tax on this) and 'Gratuity' as a tip for paying its service staff.
Pay GRATUITY in Cash or by credit/debit Card?
CASH is the king when it comes to putting a smile on your server's face. They get to keep all with no tax deductions.
The one swiped on your card becomes an accountable income for staff. Employer has to count it as their real income and hence is paid to them after deducting appropriate income taxes.
Legally, the staff is required to declare the tips on their tax returns and pay income taxes, if any.
Restaurant is NOT supposed to charge the sales tax on the gratuity even if you pay it through your card and no cash.
Gratuity percentage in USA on the Food Bill added by restaurant
To be very frank, I have never seen this trend in India. It was a new thing for us, when we (4 adults + 2 children) dined at a local Pizza joint in USA.
They listed all the tip amounts on the bill itself. To add some spices, they even highlighted the figures by drawing a circle around it. There is no way you can choose to ignore it!
We initially had decided to place the tip of around 12% of the bill amount but this gesture somehow forced us to pay a minimum of at-least 15% tip.
I don't think that gratuity or service charge or a tip is anything legal and you are bound to abide by it. It is more of a customary gesture where you give away an amount when you feel happy and satisfied by the services offered which made your dining experience better.
If the restaurant adds it to your bills on its own, they are actually assuming that they were able to enhance your dining experience irrespective of what you felt.
You can certainly challenge this amount if you were not satisfied with the service and refuse to pay it. You are not legally bound to pay gratuity or service charge.
Pay Tip at Ice Cream Parlors or Restaurant Like McDonald in USA
In India, we normally do not pay tips at such eating joints where you are serving yourself. Serving yourself means that you are picking the food from the counter and taking it to your table.
The concept is a bit different in USA. People here, expect tip at every junction including self-serving restaurants.
You can find a tip cup/box on the counter in each food joint.
In most self-serve food outlets like Burger King, Dominos or Pizza hut, they will ask you to sign the credit/debit card receipt, where you can't really ignore the prominent tip section left for you to fill-up.
As per my experience, most people do NOT tip in these fast food outlets. You can choose your own option. I usually do not give any tip at the self-service and buffet meals.
Opinion
Quick Tips