Make Eggless cake in Oven or Microwave Convection without baking soda. Soft and tender as cake made with egg. Step by step pictures with video in Hindi.
Eggless Cake In Oven
: This recipe is for those who does not like to eat Eggs. Making an eggless cake has always been a big question as people generally have this perception, that the cake would not fluff as much as an egg cake does.
The other misconception is that the eggless cake won't be soft enough.
If you also have this belief, then try this recipe to break your notions. We are demonstrating the very basic and easy way of making an eggless cake with same level of softness and fluffiness as any other cake. If you follow the tips here, you would not need any baking classes to make a restaurant style Eggless cake.
We are making this cake using an Oven. You can follow the same recipe if you have Microwave Oven (i.e. The microwave with convection mode).
If you do not have an Oven (OTG) or Microwave Convection Oven,
bake eggless cake using a cooker
. This is our tried and tested recipe.
To give you one more option, if you are looking at making the Atta cake and that too using a cooker, you have reached the right place. Here is the
Eggless Atta Cake in Pressure Cooker recipe
.
This cake is a dry cake and you can certainly decorate it with whipped cream to make it a perfect birthday cake.
---
Ingredient
---
---
Instructions
---
Making the Cake batter
Prep Time - 5 Minutes)
First of all, melt butter by keeping it in Microwave for 30 seconds. You can also use stove for melting Butter.




Melt butter with Microwave or a stove




Add All-purpose-flour, baking powder (not baking soda), 1 tsp Vanilla Essence and condensed milk.

Blend the mixture using a hand blender. 4 minutes of blending would be good enough to make it a smooth paste.

You can use a manual hand blender if you do not have the electronic one. There will be no difference except that you would probably have to spend more time blending it than the electrical one.

Make sure that there are no visible lumps after blending. Cake batter is ready.


Blend all ingredients



Preparing baking pan and pre-heat Oven
Prep Time - 4 Minutes)
You would need an Oven safe baking pan. You can follow this same recipe for Microwave-Oven (Convection mode) also.

Basically, there is no difference between baking a cake in Oven or the Microwave convection oven. Get your doubts cleared about baking in Microwave Convection Oven here.


Decorate eggless cake with nuts




We have used a round shaped bowl. You can use whatever shape you like (rectangular loaf pan or square baking pans).

Add the cake batter in the baking pan.

Pre-heat Oven on 350 F (180 C) for 3 minutes. Some newer models of Oven and Microwave Convection Ovens have the feature of pre-heating to a desired temperature. We simply love this option. If you have it, use it to set the temperature and wait for the device to signal when it is ready.

If you do not have this feature and still hanging with an old Oven like us, wait for about 3 minutes. There is no way to find the real temperature inside Oven after 3 minutes. We have observed that 3-5 minutes is a good time to get desired levels of heat for baking.

For this recipe, we have chosen 3 minutes.

Sprinkle chopped nuts on top of the cake batter, if you are using them.
Bake Eggless cake
Cook Time - 45 Minutes)
Keep the baking pan in Oven for 45 minutes on 350 F (180 C). The temperature would remain same for Microwave Oven too.

After 45 minutes, the cake should be ready to come out of Oven. But wait, there are slight chances that it has not baked completely yet.

But why? Well, each baking device has its capabilities to produce and hold the heat within it. Newer devices would be better than than the older generation. So, it is possible that the cake has not baked yet.

How to check? Use a tooth-pick and poke it at the center of cake. If it comes out clean i.e. no greasy cake batter paste visible or felt on touching the tooth-pick, then your cake is all set.

If you do see some cake paste there, this signals that the cake might still need some more time to completely bake its inner portion.

Here, we recommend to bake it for another 5-10 minutes and then re-check.

Off-course, the cake would look brown from the outer surface after 45 minutes of baking. The real test is inside and we recommend using the tooth-pick test.

Once the cake is fully baked, take it out. The pan's surface would be hot, be careful while handling it.

Baking the eggless cake is simple if you follow our tips and the steps.

Keep it aside. Let cool down to room temperature. It should take about 2-3 minutes.

Once it is cool, use a knife to separate it from the baking pan walls.

Place a plate on top of the baking pan and turn it over to bring cake out. Once cake is out, it would be lying with its face flat on plate.




Use a plate and turn over the pan to bring out the cake.



Turn the cake upside down to look at its face. Soft and tender Eggless cake is ready to serve.

Isn't it great? We have made the Eggless cake with same level of softness that is expected with eggs.
---
Storage and Serving Suggestions
---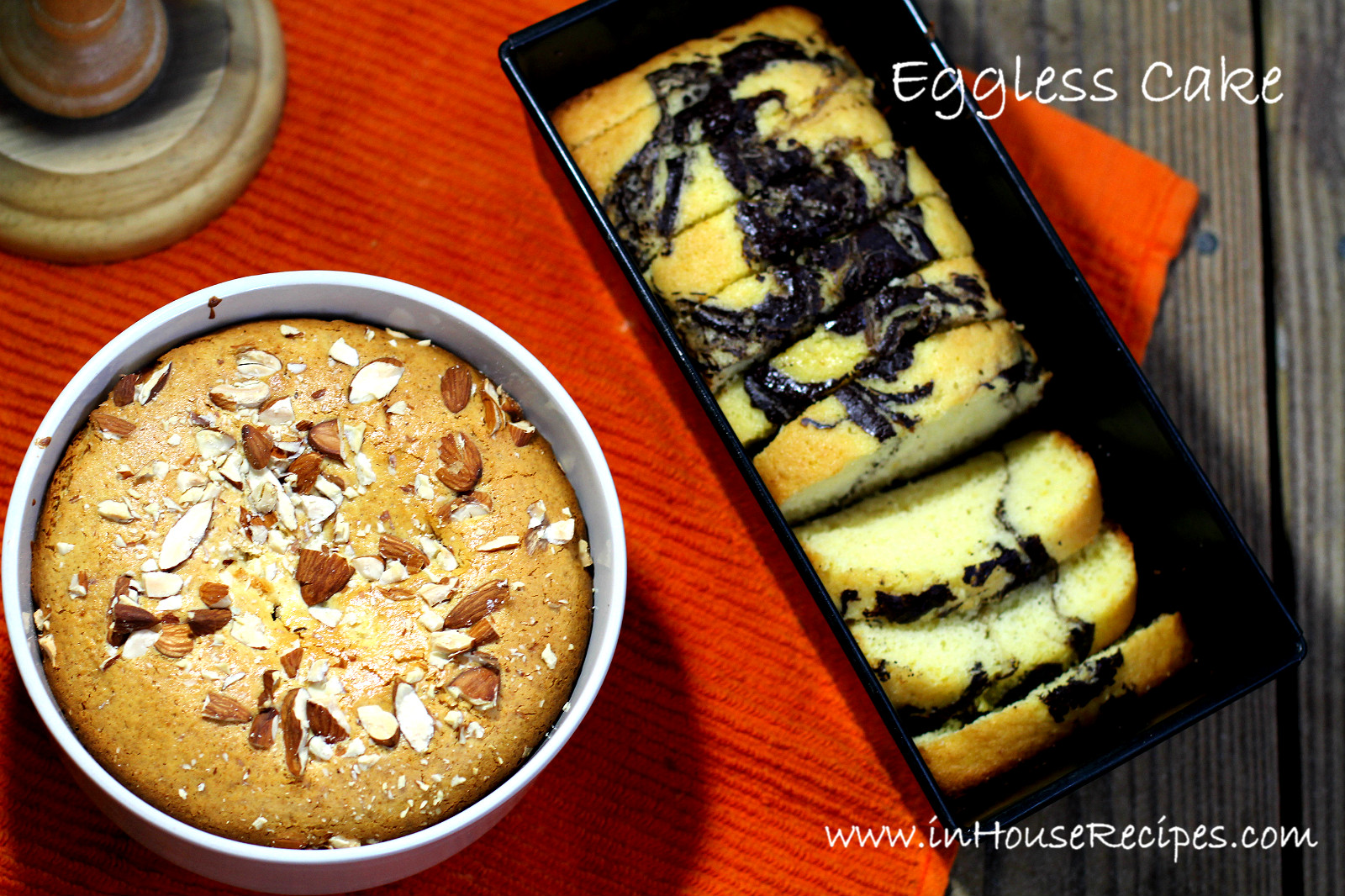 This Eggless cake is a dry cake at this point. You can either serve it as it is or can use whipped cream to make it more like what you see in baking shops.

Basically, every cake is made with two steps: one is the dry cake base and second is the whipped cream.

Whipped cream is just used to decorate the dry cake (top, side walls and most of time at the center as well). Some people also add food colors to make it more attractive.
Refrigerate this cake and consume within 5 days for best taste and results.
You can also garnish it with chocolate sauce. This is what we did...you can see the pictures as proof! Haha.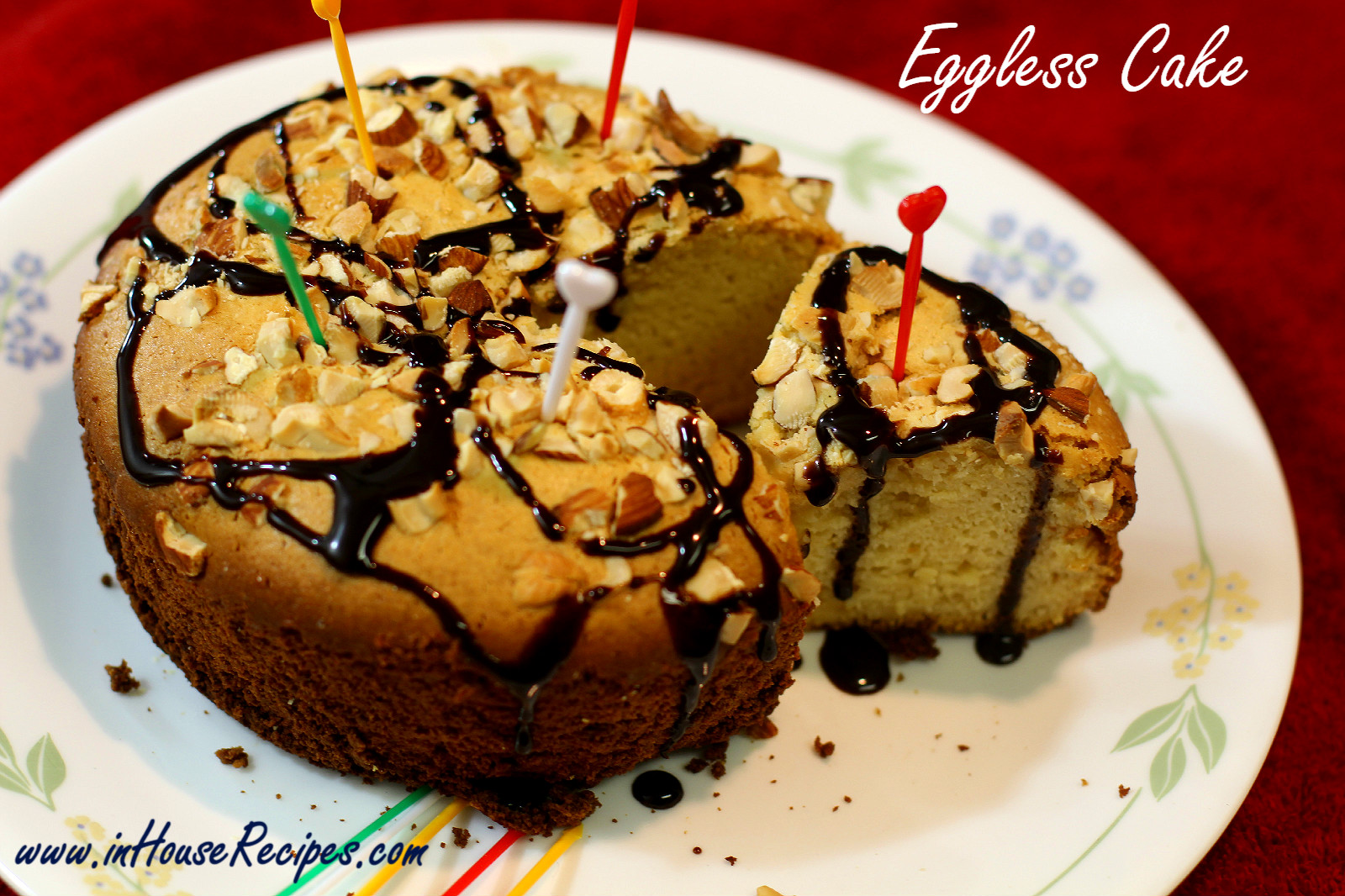 ---