Dumdama Aloo Recipe – Modified Version of Dum Aloo
Dumdama Aloo is a modified version of Dum Aloo. We have used whole spices more than the conventional ones to make gravy exhibit strong flavors.
Dumdama Aloo is a modified version of the better known Dum Aloo. Dum Aloo is basically a Kashmiri dish and has a dry fruits rich gravy. The gravy normally has an orange or a yellowish color which depends on the quantity and quality of tomatoes used in preparation.

This Dumduma aloo is a new recipe and I don't know if you would have ever made this or found this in any restaurant. The name of the recipe has also been thought of by my husband as it does not perfectly match the Dum Aloo and we wanted something very close it. You can call it by any another name if you want and like the recipe .

You might be having this question in your mind about why this experiment? Well, my husband always wants me to do something new and try different combinations of spices. He wants to try new tastes and that's how we are also able to find new recipes. It is he who is always ready to try our new experiments sacrificing the extra load that he is adding to his waist.

Believe me, there are many recipe trials which don't even make it to this website if the final dish does not qualify his taste buds. This one did manage to attain passing marks though.

The change that we have tried to bring here is in the gravy of Dum Aloo. I have used whole spices more than the conventional ones. This is pretty similar to what chefs do while making gravy for non-vegetarian recipes. If you like non-vegetarian food, you will definitely like this gravy.

And if you are a vegetarian, you can also try this spicy and new style of gravy with your favorite Aloo (potatoes).
Ingredients
Nutrition Facts
Dumdama Aloo Recipe - Modified Version of Dum Aloo
Amount Per Serving
Calories
801
Calories from Fat 216
% Daily Value*
Potassium 2698mg 77%
Total Carbohydrates
140g
47%
* Percent Daily Values are based on a 2000 calorie diet.
Instructions
Ingredients for Dumdama Aloo.
We need Boiled potatoes for this recipe. If you have not boiled them yet, please do it now.
We will now start with frying the boiled Potatoes. Take a pan and add enough oil to submerge the potato completely. Heat it on high flame.
Now, peel the skin of Potatoes and deep fry them on high flame until they become light golden brown in color.
Once you see the bottom of potato is changing color, just flip it with light hand to fry from other side too.
When you see Potatoes have attained golden brown color on all side, just take them out from the hot oil. Switch Off the stove.
Poke all Potatoes evenly all through its surface with a fork. This will help the Potatoes to absorb the gravy later. Keep them aside uncovered, for later use.
Potatoes are ready. Now, we will make the masala paste for marinating Dumdama Aloo.Heat a pan on medium flame.
Add grated Coconut, Black Pepper, Fennel Saunf, Clove, Garlic buds, Coriander Seeds, Dry Red Chilies, Black Cardamom, Cinnamon and Cumin Seeds. Roast them on medium flame for 30 seconds. You will witness the unique smell of spices once they are roasted.
After 30 seconds of roasting, take out all the whole spices from pan and grind them to make a dry powder.
Once the powder is ready, add 1/2 cup of water in the grinder jar and grind again to make a thick paste from this dry powder.
Now go back to your boiled Potatoes. Coat/Marinate them from all the sides with the spice paste made in above step.
Take the Poppy seeds Khus-Khus in another plate/dish. Roll Potato pieces over Poppy seeds to cover them with Khus-Khus completely (as shown).
Heat 1/4 tbsp of oil in a pan and keep it on medium flame. Fry the Khas-Khas coated Potatoes in the hot Oil.
Fry until Khus-Khus becomes light golden brown in color. Do flip Potato pieces occasionally to avoid burns. Once done, keep them aside for later use.
We will focus on creating the gravy now. Take another pan and heat 1/2 tbsp of Oil on medium flame. Add Asafoetida. Once it gets light brown in color, add Onion & Curry Leaves. Let it cook until Onions turn light pink in color.
Add chopped Tomatoes, Turmeric Powder, Red Chili Powder and Salt. Mix well.
Keep the flame on medium level and cook until Tomatoes become soft/tender. Once they become soft, switch off the stove. Keep it aside to cool.
Once your Onion and Tomatoes mixture cools down to room temperature, add it to a grinder jar.
Grind it to a smooth paste. Our process is about to finish. Please be patient as you are going to eat something new today!
The final course of cooking this dish includes bringing together all the intermediate preparations on same plate. So, take a pan and add 1 cup of Water. Bring it to a boil on high flame. After a boil, add the Onion and Tomato paste created above. Keep stove on medium flame and cook for 5 minutes.
Add the Khus-Khus coated Potatoes in the gravy. Cook for about 5 more minutes on low flame and then switch off the stove.
I am sure you are ready to jump in your Dumdama Aloo. So what's causing the delay?
Garnish it with lemon juice and take a deep dip in hungry sea with Chapati/Paratha/Roti/Naan or even rice.
You can also slice the Potatoes from center using a knife before serving as shown in the image. Enjoy and keep watching for more such recipes.
Storage and Serving Suggestions
Serve Dumdama Aloo hot with Nan or Paratha.
You can refrigerate them and re-heat in Microwave later, while serving.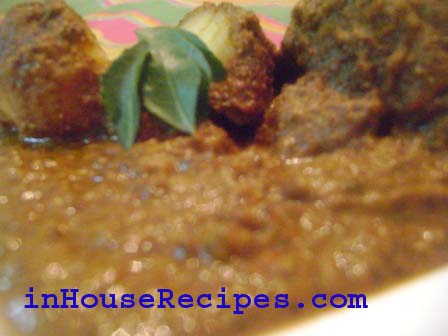 Recipe
Recipe In English