Darker the Mehndi, the more is the love in hubby's heart
We talk about how to get the dark color of Mehndi on your hands or legs with home based methods. No chemicals and no side effects. Basic things easily available at home
About Mehndi:
Mehndi is typically applied during special occasions like Weddings and festivals. It is usually drawn on the hands and legs. It is also called Heena.
Mehndi designers can be usually found in common markets and beauty parlors in India. Its paste is usually filled in a plastic cone and then applied on body parts.
In India, It is used as a form of decoration mainly for bride and groom. Indian weddings will never be complete without Mehndi. It is very common and important for every bride to write the name of her groom on her hands on wedding using Mehndi.
The occasion of Mehndi ceremony is often one of the most important pre-wedding rituals. It is a fun filled ritual where everybody dance and enjoy food also.
The ceremony is mainly held at the bride's house or at a banquet hall in the evening day before the marriage. On the occasion, a professional Mehndi Designer applies Mehndi to the bride and groom.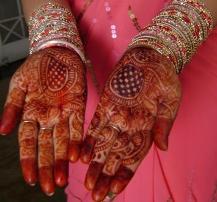 There are many beliefs related to the final mehndi color that you get once it dries up. It is commonly believed that the more intense/dark color means a better loving husband. But at the same time, some people say that woman's mother-in-law will love her if the final color is pretty dark.
Either ways, the woman is going to have a gala time in her in-laws home and would be all set to rule it .
So, try and get the darkest color!
Here are some easy and simple steps to get the dark color of your Mehndi:
Lemon-Sugar lotion: Get the Mehndi applied on your body part. Let the Mehndi dry up a bit. Mix 1 lemon juice and 1 tsp of sugar in a bowl and try to dissolve sugar in lemon juice. Apply this mixture on your hands and legs (Wherever you have Mehndi) with the help of a cotton bud.
This lemon and sugar works wonders and have been a tried and tested strategy. There are no side effects and no chemicals which makes it pretty safe for your skin and hygiene.Approximately after 3 hours, your Mehndi will get dry (even after putting up the sugar-lemon lotion), then you can remove it by lightly rubbing it with both of your hands. Do NOT use water to remove it.

Mustard Oil: If you do not want to use the Sugar lotion for some reason, you can make use of Mustard Oil. Apply Mustard oil on your Mehndi properly and leave it for 8 hours (preferably over-night). Do not put your Mehndi under water at all.
After 8 hours, you will see your Mehndi color is quite deep and dark. This method is good if you do not want to
Cloves: The third method that i have seen working is using cloves. Heat some cloves in a pan and take the smoke of the clove on your Mehndi. This will help your Mehndi achieve dark color. I am not sure about the logic behind the achievement of dark color based on smoke but it seems to work in some cases.
Mehndi Oil: Apply Mehndi Oil (generally available in market) before you apply Mehndi on your hands and legs. This oil somehow works to get the deep and darker color. I am not sure about what it contains and how safe it is for your skin but i have seen it work in times of need. I would suggest to use it only if you are not eager to use the home grown methods above.

Enjoy and let me know your response.
You can also share your personal experiences and specific styles to deepen the color of your Mehndi. I would love to know them.
Did you know that you can remove Mehndi quickly in a day if you want to?
Quick Tips