Dahi Sandwich Recipe [Pics]
Dahi Sandwich is a perfect snack for tea time. You can make it quickly with toasting the curd and onion mixture sandwiched inside bread. Enjoy it with tea.
Maahi Gupta
Updated 8 Feb, 14
Dahi Sandwich is an everyday recipe which you can make anytime of the day. It can be made quickly in minutes with the ingredients easily available at home. At our home, they act like a life saver when we run out of thoughts on what to make and are feeling lazy to get into kitchen.
So, you understand the significance of this recipe? It is for those lazy people who want taste with no effort to satisfy their hunger! So, feeling lazy and hungry? Find out some bread and dahi from your refrigerator and you are on…
Dahi Sandwich Recipe In Words
Prep time:
Cook time:
Total time:
Yield: 4 Dahi Sandwich (Serves 2 People)
Ingredients: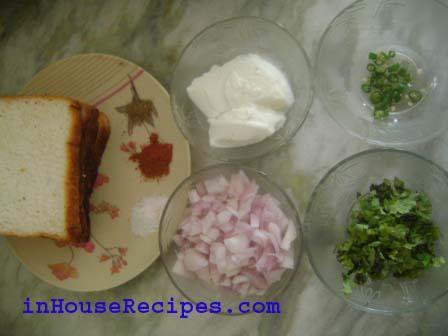 4

Bread Slices

1/2 Tbsp

Curd

1/4 Tsp

Red Chili Powder

3 Tsp

Chopped Coriander Leaves

1 Finely

Chopped Green Chili

1/4 Tsp

Salt

1/2 Cup (Our 1 Cup = 240 ML)

Finely Chopped Onion

2 Pinch

Garam Masala
Method:
Dahi sandwich-Mix all ingredients in a bowl

Mix all ingredients except bread in a bowl.
Now take one slice of Bread and spread the prepared mixture all over evenly.
Spread few drops of Oil on the toaster. You can use Butter also if you like.This will help the slices away from sticking to the toaster surface. If you have a non-stick toaster, you may like to avoid Oil/Butter all together.
But remember that Oil/butter do add crispness to the bread.

Place the dahi sandwich in hot toaster.
Close the toaster and let them cook as per your toaster's cooking time.Once you see toast achieve the beautiful golden color, take them out from the toaster. Your Curd toast/Sandwich are ready.