Molten Choco Lava Cake Recipe In Oven – Egg
Make Molten Choco Lava cake at home using Microwave oven or convection. Chocolate stuffed inside the cake. Cut open to make it flow like lava. Step by step tried and tested recipe video.
Maahi Gupta
Updated 13 Jul, 22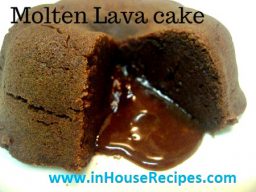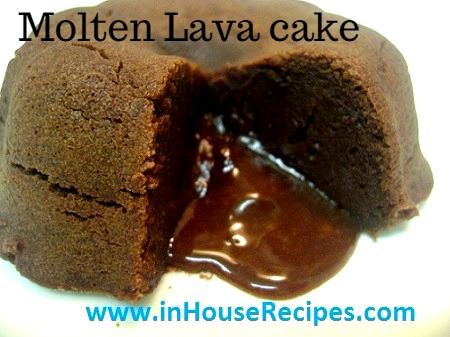 Molten Choco Lava Cake Recipe In Oven - Egg - Video
Molten Choco Lava cake recipe that you can make at home. Those who have tried it before, already know the magic this cake creates in your mouth and mind.
Ingredients
1

Cup

Chocolate Chips

Or any chocolate that you have

1/3

Cup

Powder Sugar

Powder Sugar. Fine crushed/grind sugar with no crystals visible.

1/4

Cup

All Purpose Flour

Maida

113

Gms

Butter Unsalted

Unsalted

2

Number

Eggs
Instructions
We will start the process with using the double boiler to melt our chocolate chips and butter.

To make a double boiler, take a tea pan and fill it 50% with water. Heat water on high flame for 2 minutes.

Once water is hot, add another pan on top of this tea pan. This will help melt the chocolate with the steam of water.

When Chocolate looks visibly melt, you should add the Butter. Let them melt and mix well to make a smooth mixture.

You can now turn the stove on medium flame and wait for both the things to melt.

Once both Butter and chocolate have melt, turn off the Stove.

Keep Chocolate and Butter in same double boiler stand to use the remaining steam till we use it in our other mixture.

Now, lets move on to whisking the Eggs.

Break Eggs in a bowl. Whisk them well to make a smooth paste.

Now add Sugar and whisk again for 5 minutes.

After 5 min., you will see good number of bubbles(as shown in the video).

Our Egg mixture is ready, add melted Chocolate to this mixture and whisk again.

Now add All-Purpose-Flour Maida and whisk once more.

Our cake mixture/paste is ready for baking now.

Next step is to pre-heat the Oven Or Microwave withConvection mode – mostly used in India. Normal Microwave would not work here as it is only made for throwing micro waves for heating. Do not feel bad if you do not have oven or microwave-convection, you can make molten Choco lava cake in cooker also. Heat empty Oven/Microwave-convection on 180 C (350 F) for 3 minutes.

Now, we need to add the cake paste in baking molds.

We have taken two molds with a bit of design on their face. You can take any Oven safe molds for baking.

Grease the mold with a bit of Butter. This will help in making these moulds non-sticky for cake walls. Fill 75% of mould with the cake paste. If you do not have the big bowls as we have shown, you can use the conventional

cup cake baking tray

with multiple small holes as well.

Keep the baking bowls in a baking plate for ease of managing.

Wear your Oven glove and place baking plate carefully in the Oven. Bake it for about 18 min. on 180 C (350 F). The timing of baking also depends on the size of baking dish though the temperature would remain same. 18 min. is an average time that i have observed. I would suggest to keep the baking time as 15 min. for smaller baking tin than the one used by me.

After 18 min., switch off the Oven and take out the baking plate. Our molten choco lava Cake must be ready.

Use a knife to scratch the walls and separate the cake from baking tin.

The cake walls are already non-sticky as we had greased the tin with Butter earlier.

Now, take a plate and turn the baking tin upside down to bring out the cake.

Our job is done. We can now enjoy this delicious home made Molten Choco lava cake.
Notes
Making a cake at home is pretty easy as opposed to the common perception. You can even bake a cake in the cooker. You don't believe me? Then why don't you try this same molten choco lava cake in a cooker?
Do share your comments/suggestions. They keep us motivated.
Nutrition
Calories:
1214
kcal
Carbohydrates:
121
g
Protein:
18
g
Fat:
82
g
Saturated Fat:
50
g
Polyunsaturated Fat:
2
g
Monounsaturated Fat:
14
g
Cholesterol:
333
mg
Sodium:
76
mg
Potassium:
81
mg
Fiber:
1
g
Sugar:
84
g
Vitamin A:
1650
IU
Calcium:
40
mg
Iron:
4.7
mg