Chew Mulethi to get relief from Cough
Mulethi is a herb quite useful in curing the cough in a natural way. The juice of Mulethi will immediately sooth your throat and provide relief from cough.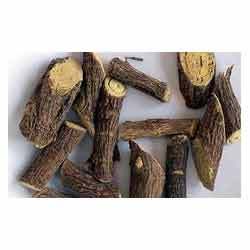 I am a regular customer of cough tablets for my nearby chemist and he obviously loves it. I had also never given a thought or believed in any other medicine fields like homeopathy, Ayurveda or any thing else.
The primary reason being that they all take good amount of time to heal whereas in today's fast forward world, I need fast forward relief.
But there are obviously some side effects of being fast forward too. I don't really know the side effects but the point that i want to make here is that even if the process of healing is slow, it is better than those tablets.
I am allergic to dust and cold weather. The sudden temperature drop makes me catch cold in just 1 minute. It is also accompanied by cough almost all the times. So, when I got cough this time, I decided to try the natural herb Mulethi to cure my cough this time. I have seen my mom using it and she was pretty confident that i would also get the relief.
It was indeed surprising as it hardly took 10 minutes to get the relief that i was looking for.
What Is Mulethi?
For those who have heard about it for the first time, Mulethi is a natural herb used by Ayurveda in the treatment of respiratory and digestive disorders. Mulethi's use is specifically indicated in the treatment of chronic acidity, ulcers and chronic bronchial conditions. Investigations observed that Mulethi activates ulcer healing. It also acts as an anti-stress agent.
How To Use Mulethi For Cough Relief
To get immediate relief from cough, you just need to keep small piece of Mulethi in your mouth and chew it like a chewing gum. The juice of Mulethi will immediately sooth your throat and provide relief from cough. It is more effective than the cough candies available in market. It gives you soothing results within minutes.
Availability Of Mulethi
I have become a fan of Mulethi and I love my mom for introducing me to it. It is easily available on ayurvedic medicine stores along with grocery stores in India. It is known by the name of Glycyrrhiza glabra root in western countries. It is also known by following names in these languages: Sanskrit – yastimadhu, Gujarati name – jethimadh.
It comes in the form of small wood portions and it may sound weird to chew it. But believe me, the juice of this wood is pretty good for health and especially throat.
Side Effects Of Mulethi
As far as i know and have experienced multiple times now, there are no side effects and no drowsiness which you get from cough syrups.
I shared it here so that people like me can also get benefit from this amazing natural herb.
Health
Quick Tips