Instant Besan Dhokla – Khaman in Microwave
Instant Gujrati Besan Dhokla in Microwave. Steam fluffy Khaman Dhokla at home in 12 minutes with video in hindi and pictures. Make without Eno too. No Oven required.
Maahi Gupta
Updated 13 Jul, 22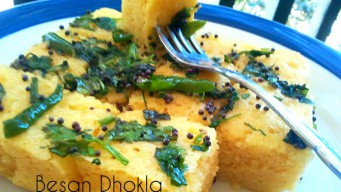 Instant Besan Dhokla - Khaman in Microwave
Ingredients
For Batter or Paste
1

Cup

Gram Flour

Besan

1/2

Cup

Curd (Yogurt)

Dahi - thick and non-sweet

1/4

Cup

Water

1

Tsp

White Sugar

1

Tbsp

Oil

Olive Oil or any other

1/10

Tsp

Turmeric Powder

1/4

Tsp

White Salt

2

Number

Green Chili

Finely chopped into small circular pieces

1

Tsp

Citric acid Salt

Fruit Salt (ENO as known in India - you need unflavored one)

1

Tsp

Ginger paste

grind regular 1 Inch Ginger into fine paste
For Seasoning
1

Tsp

Mustard Seeds

2

Tsp

Green Coriander Leaves (Cilantro)

Coriander Leaves - Chopped into small pieces

2

Tsp

White Sugar

4

Number

Green Chili

10

Number

Curry Leaves

1

Cup

Water

1/2

Tbsp

Oil

Olive Oil or any other
Instructions
Making Dhokla paste or Batter Prep Time - 2 minutes
Add Gram Flour, Curd and 1/4 Cup (Our 1 Cup = 240 ML) Water in a bowl. Mix it well to remove all visible lumps. Mix it for 1 minute.

Add 1 Tsp Sugar along with 1 Tbsp Oil and mix well again. It should take about total of 2 minutes for mixing.

Batter is ready. Lets get the Dhokla dish/pan ready.
Preparing Dhokla tray or pan Prep Time - 2 minutes
Grease the dish/pan so that the Dhokla does not stick to the bottom or any corner of the dish.The pan should be Microwave safe. We are using a plastic based pan, you can use any other pan too.

Add the ENO (Indian brand of fruit salt) in the batter and mix it. We need to immediately transfer the batter into the greased pan after mixing it.

Transfer the batter into our greased pan. Do remember to fill up only 75% (height) of the pan. Mixture will grow substantially in its volume and become fluffy within a minute. Dhokla dish is now ready to go into Microwave.
Steaming Dhokla in Microwave Cook Time - 4 minutes
Keep the pan in Microwave for 4 minutes on high power. There may or may not be any power selection option in your device. We don't have either.

But, you should select the highest power level, if you have the option.

Take out the pan from Microwave after 4 minutes.
Making Dhokla Seasoning Cook Time - 4 minutes
Slice the Dhokla into square or rectangular shaped pieces before making the seasoning. Mark horizontal and vertical cuts. You can keep the size of your Dhokla slices as per your choice. We have approximately 2x2 Inch pieces.

Start with the seasoning: Heat 1/2 Tbsp Oil in a pan on high flame for 30 seconds. Add Mustard seeds and wait for another 30 seconds.

After 30 seconds, turn the stove to medium flame. Now add Green chili, Curry Leaves and Coriander leaves. Mix well.

Add 1 cup of Water and 2 Tsp Sugar. Mix well.

Turn the stove on high flame and let it cook for 3 minute.

After 3 minute, switch Off the stove. Now directly transfer the seasoning on to the Dhokla pieces.

Spread it evenly all over the pieces such that each piece gets to taste the seasoning and gets fluffy.
Letting Seasoning to penetrate (Optional) Extra Time - 10 minutes
Keep Dhokla aside for 10 minutes. This will help the seasoning settle down and reach all the corners of dhokla. It would also help moist the internal portions of Dhokla pieces.

After 10 minutes, Besan Dhokla is absolutely ready to enlighten your evening.
Notes
Dhokla is served at room temperature i.e. not cool or hot, just the same as your room.
It can be refrigerated and consumed for up-to 3 days for best taste and texture. Since, the seasoning contains water, it would make start melting down to a paste if stored for more than 2-3 days.
Do top up each piece of Dhokla with the Green Chili slices (from the seasoning) and the Amchoor chutney.
Microwave Dhokla recipe without ENO?
We are in the process of trying this recipe without ENO (Indian brand for fruit salt) or you can say fruit salt. We feel that the Dhokla paste would need to be kept aside for couple of hours to ferment before steaming.
Technically speaking, ENO is nothing but a combination of Baking Soda (Sodium bicarbonate) and Citric Acid in near 50:50 ratio.
Hence, if you want to substitute ENO, you can pretty well use these two to follow the above recipe. As a substitute for Citric acid, you can use Lemon juice.

So, if you want to try the above recipe without ENO, you would need 1/2 Tsp of Baking Soda and 1/2 Tsp or Citric Acid OR Lemon juice.
We are in the process of trying this hack and would share once it is successful.
Dhokla recipe in rice cooker?
We have never tried the rice cooker and hence can't say with 100% confidence. But, we normally boil rice in a Microwave within 11 minutes. If we go by this understanding, you can probably use the rice cooker and just set the time as 4 minutes.That's the only difference that we have made with respect to using Microwave for Dhokla vis-a-vis rice.
Can we make Dhokla in Microwave Oven?
Hmm..good question. Microwave Oven is nothing but an extension of Microwave. It has two different modes of operation. One is plain Microwave and other is Microwave Convection (to work as an Oven).
You should use the Microwave ONLY mode to steam Dhokla.We answer some more questions about baking in Microwave Convection Oven here.
Nutrition
Calories:
137
kcal
Carbohydrates:
19
g
Protein:
7
g
Fat:
4
g
Saturated Fat:
0.5
g
Polyunsaturated Fat:
1
g
Monounsaturated Fat:
2
g
Cholesterol:
0.2
mg
Sodium:
75
mg
Potassium:
334
mg
Fiber:
3
g
Sugar:
6
g
Vitamin A:
400
IU
Vitamin C:
90.8
mg
Calcium:
40
mg
Iron:
1.6
mg