Beans Burger Recipe – Bun With Mexican Style Beans Stuffing [Pics]
Beans Burger is a Mexican style food. It is a combination of burger and a burrito that is quite popular in Mexico. We use the Red Kidney Beans in this Burger.
Maahi Gupta
Updated 8 Feb, 14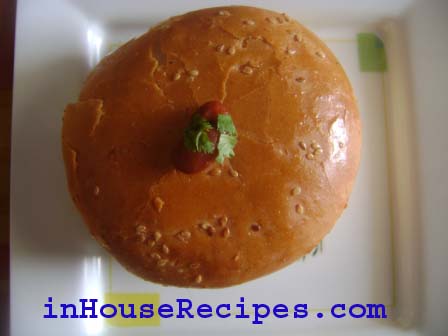 Beans Burger is a combination of a Burger and a Mexican beans burrito. Normally, a burger would have a patty sandwiched between its two outer layers and the Beans Burrito would a chapati on its outer layer. This one is a marriage of both and thus have a bun on outer layer with beans spread inside the Bun.
The taste is a bit different than a conventional burger in this make-shift recipe. I have shared it here as this is eaten commonly at home as evening hunger killer. Whenever we make Rajma in lunch and have some left till the tea time in evening, we enjoy this Beans Burger. I hope you would also like this.
Beans Burger Recipe In Words
Prep time:
Cook time:
Total time:
Yield: 1 Beans Burger (Serves 1 person)
Ingredients: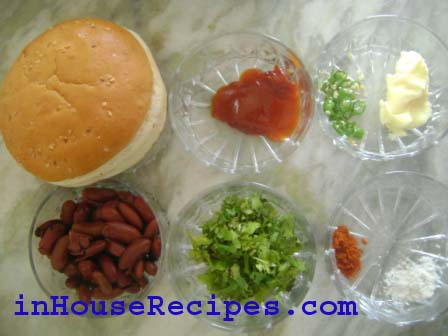 1

Bun (Non-sweet)

1 Tbsp

Boiled Red Kidney Beans (Rajma)

2 Tsp

Tomato Sauce

1 Tsp

Chopped Green Chili

3 Tsp

Salted Butter

1/2 Tbsp

Chopped Coriander Leaves

1/4 Tsp

Red Chili Powder

1/4 Tsp

Salt
Method:
| | |
| --- | --- |
| | Take a pan and add butter. Melt the butter on high flame. Once it melts, add Green chili. |
| | Turn the stove on medium flame. Now add boiled Red Kidney Beans (Rajma) and mix well. Note: Beans should not have any water. Use only dry boiled Beans. |
| | Now it's a time to add Salt and Red Chili Powder. Stir the mixture well. |
| | Add Tomato Sauce and Coriander leaves. Mix well. |
| | Mark a cut with the help of a knife at the center of the bun to divide it into two pieces. |
| | Now Rub the bun (both pieces) in the whole pan so that it will absorb all the butter as well as the gravy left from the Beans. This helps to cook the raw buns a bit. |
| | Now take out the roasted bun (lower portion) in the plate and spread the prepared Beans mixture all over the bun (as shown). Close the burger with topping it up with the other side of burger. Beans burger is now ready to serve. |
| | You can enjoy this delicious Beans burger anytime of the day. Keep cooking and keep on enjoying recipes by inHouseRecipes!!! |