Arhar Dal Fry Recipe | Toor Dal Recipe
Arhar dal recipe south India style. Boil Toor dal in pressure cooker. Use Punjabi tadka for north Indian flavor. High protein 200 Calories for weight loss.
Arhar
Dal
fry is a pretty common and probably the most used lentil in India. South Indians eat it a lot as it is a primary ingredient in
Sambar
.
We are sharing the
southern style
of flavoring (we call it tadka in North India). If you are looking for the
Punjabi flavor
, you just need to replace the tadka provided later in this recipe with the
Punjabi Tadka
.
Arhar dal is also known by the name of
Toor Dal
. If you are shopping outside India, you would probably see the packets marked with Toor dal instead of Arhar. Don't worry, they are same and you can buy it. Arhar Dal naming is more popular in north Indian states. Some people might also call it
Yellow Dal
.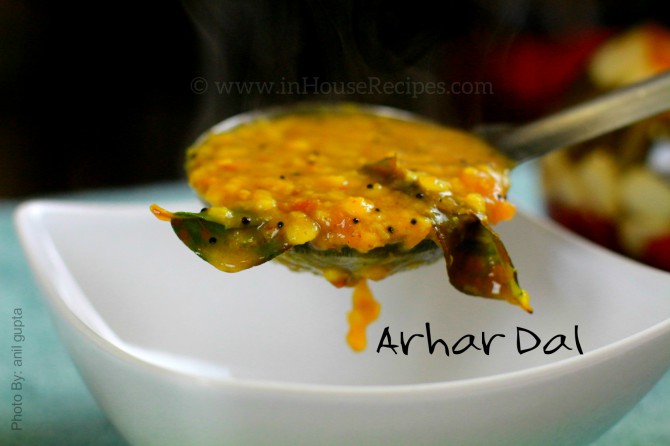 Toor dal has
high protein
content of approximately 15 Gms in 1 Cup (cooked) along with good amount of fiber.
It is also advised to consume this high nutrient dal during
dieting
to
cut down on fat
and reduce weight naturally.
This recipe uses
pressure cooker to boil Toor Dal
. If you do not have one, you can use any open container or vessel for boiling and then continue with the flavoring (tadka).
This recipe has a video in Hindi and text in English.
Ingredients
For boiling Arhar Dal

Ingredients for Tadka

Nutrition Facts

Arhar Dal Fry Recipe | Toor Dal Recipe

Amount Per Serving

Calories

377

Calories from Fat 108

% Daily Value*

Potassium 761mg 22%

Total Carbohydrates

56g

19%

* Percent Daily Values are based on a 2000 calorie diet.

Storage and Serving Suggestions

Arhar dal should be refrigerated to have shelf life of 3-4 days. Re-heat using Microwave or stove.
Toor dal has high vitamin, protein and Fibre content and is really a must have for balanced diet.
Serve this nutrient rich dal hot with Roti (Phulka or Chapati) or steamed rice.
Some people like to add a teaspoon of Desi ghee for garnishing especially in North India, to increase its taste value. This is not recommended if you are on diet control.

Protein Rich Indian Recipes Recipe