Arbi Fry Masala – Colocassia Fry Recipe – [Pics]
Arbi Fry Masala is made by frying the Arbi instead of traditional way of boiling. This recipe walks you through all the steps with pictures in a simple manner.
Maahi Gupta
Updated 26 Apr, 14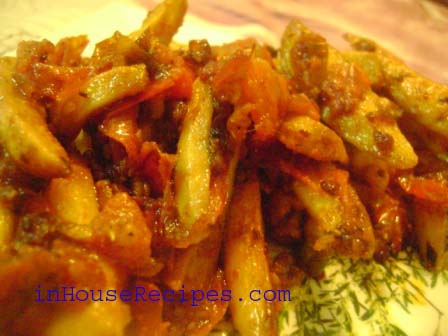 Today I am going to share one of my favorite recipe i.e. Arbi Fry Masala. Its a delight for people who love eating Arbi. Normally we make Arbi either dry or with gravy by boiling it. But there is another way to add a different aroma to its taste by frying instead of boiling. We are going to learn the same today in this recipe. I hope you will like it.
Arbi Fry Masala Recipe In Words
Prep time:
Cook time:
Total time:
Yield: 1 bowl of Arbi Fry Masala (Serves 2)
Ingredients:
150gm Colocassia (Arbi)
1/4 Tsp Salt
1/4 Tsp Carom Seeds(Ajwain)
1/4 Tsp Red Chili Powder
1/4 Tsp Coriander Powder
2 Pinch Garam Masala
1/4 Tbsp Mustard Oil
1/4 Tsp Mango Powder/ Amchoor
3 Pinch Turmeric Powder
1 Chopped Green Chili
1″(Inch) Chopped Ginger
2 Tsp Chopped Onion
1 Tbsp Chopped Tomatoes
Method:
| | |
| --- | --- |
| | Heat oil in a pan on medium flame. Once you see the smoke coming out of oil, it is heated enough to start our process. |
| | Now add Colocassia (Arbi) in hot oil and fry it for 2 minutes. Stir it while frying to avoid any burns. |
| | After 2 minutes of frying, add Carom Seeds and mix well. Roast them for about 20 seconds. |
| | Add chopped Onion and mix well. Let Onion fry till it gets light pink in color. |
| | Once Onion has turned light pink, add chopped Ginger. Mix it well and cook for another 30 seconds. Ginger adds a unique flavor and fragrance to your final dish. It is also good for digestion. |
| | Keep the stove on medium flame. Add the chopped Tomatoes & Green Chilies. Mix well and cook for 30 seconds. |
| | Now keep the stove on low flame. Add the spices like, Salt, Coriander Powder, Turmeric Powder, Garam Masala, Mango Powder, Red Chili Powder. Mix all spices well such that the get marinated to Arbi from all sides. |
| | Our Arbi mixture is ready. It now needs a bit of steam to cook and soften Arbi. Cover the pan with the lid and cook for 5 minutes on LOW flame. After 5 min., switch off the stove. |
| | After switching off the stove, mix it well and it is ready to serve with Chapati/Naan/Paratha. Enjoy!!! |
Some more pics